Reflections memorial honors those who died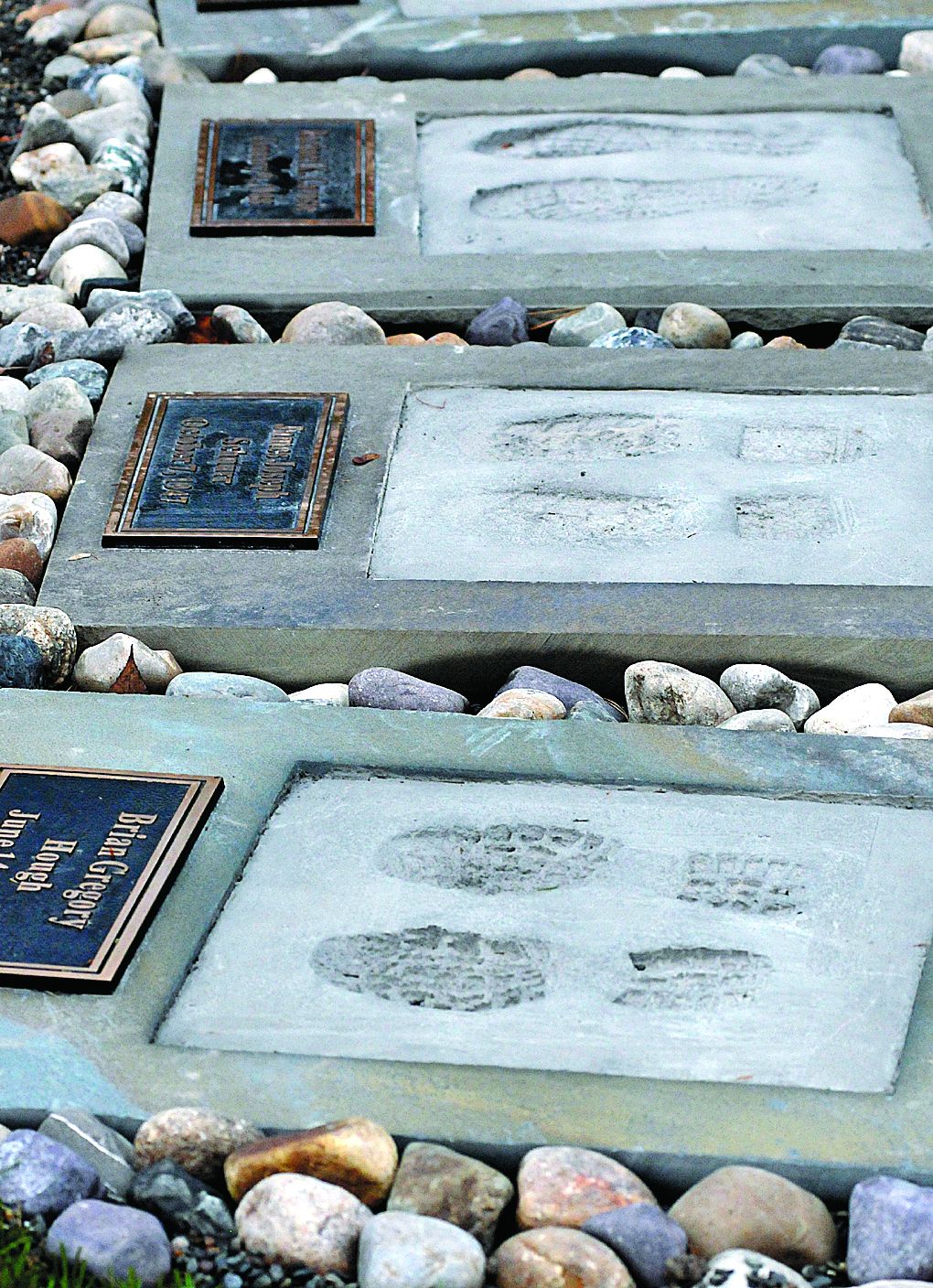 "A complicated mix of grief and hope. . ."
That's the way the Reverend Dr. Sherri Meyer-Veen described Saturday's service to unveil the Reflections monument honoring the 20 people who died in last October's horrific limousine crash in Schoharie.
The commemorative observance, held at the site of the crash on Route 30A in Schoharie, also honored first responders who answered the call a year ago.
About 300 family and friends of victims, along with first responders, gathered in the chilly morning to hear calls for comfort and fond memories.
The monument itself is a lotus flower carved of stone with blocks at its base listing the 17 first-responding agencies. A semi-circle of plaques lists the deceased, with footprints of each cast in cement.
Jessica Kirby, president of the Reflections Memorial Foundation that made the monument possible, noted how close she became to the victims' families.
The deceased were children, siblings and friends of those in the audience, adding that their passing "affected the lives of hundreds more," Ms. Kirby's voice cracking.
"This tragedy taught us to live each life to the fullest," she added.
Amid tears and hugs, the audience heard several speakers honor first responders who arrived minutes after last October's crash.
"Some people here were witnesses to something we could not conceive," said Dr. Meyer-Veen, referring to first responders.
"Bear witness to each other and seek divine comfort."
Jill Perez, mother of crash victim Matthew Coons, spoke on behalf of families and praised first responders.
"You're to be honored," she said. "Thank you for rushing to our children's sides in the hopes of saving them.
"You do what you do without thinking about it."
And Ms. Perez added comforting words linking the victims and first responders.
"We know they watch over us and they watch over you because you tried," she said.
Shirley Ball, a Reflections board member, read the names of the responding agencies, adding "We pray for you" after each one.
"This was a call no one wanted to hear, yet all came," Ms. Ball added.
Ms. Ball called the monument "a place of healing," and several speakers thanked the Reflections board for their remembrance.
"This is a generous gift given without asking," said Donna Rivenburg, mother of Amanda Rivenburg, who died in the crash.
She also thanked Ms. Kirby and the rest of the Apple Barrel staff who helped on that fateful day.
The Reverend Colleen Quirion then read the name of each victim, and a family member or first responder placed a rose on each plaque.
"Our bodies pass away but our souls are everlasting, concluded Imam Genghis Khan.
The non-denominational service also included prayers from the Jewish and Buddhist faiths.
Music by the Reverend Michael Meyer-Veen and the Reverend Bert Mayne accompanied the service.

• • •
Although the Reflections board, along with parents, planned the memorial, Rich McCormack and his staff at Split Rock Landscaping in Schoharie carved the stone and put it in place.
Mr. McCormack designed the monument as a lotus flower "as a reflection of life," he told reporters.
"We hope it gives them a little bit of strength," Mr. McCormack said.
The footprints in the concrete shows "the shoes leaving a memory of them," he added.

• • •
Victims memorialized were:
Savannah Bursese, Rachael Cavosie, Matthew Coons, Patrick Cushing, Mary Dyson, Robert Dyson, Amanda Halse, Brian Hough, Abigail Jackson, and Adam Jackson.
Also, Allison King, Scott Lisinicchia, Erin McGowan, Shane McGowan, Amanda Rivenburg, James Schnurr, Amy Steenburgh, Axel Steenburgh, Richard Steenburg and Michael Ukaj.