4 charged in Worcester murder, burglary--maybe more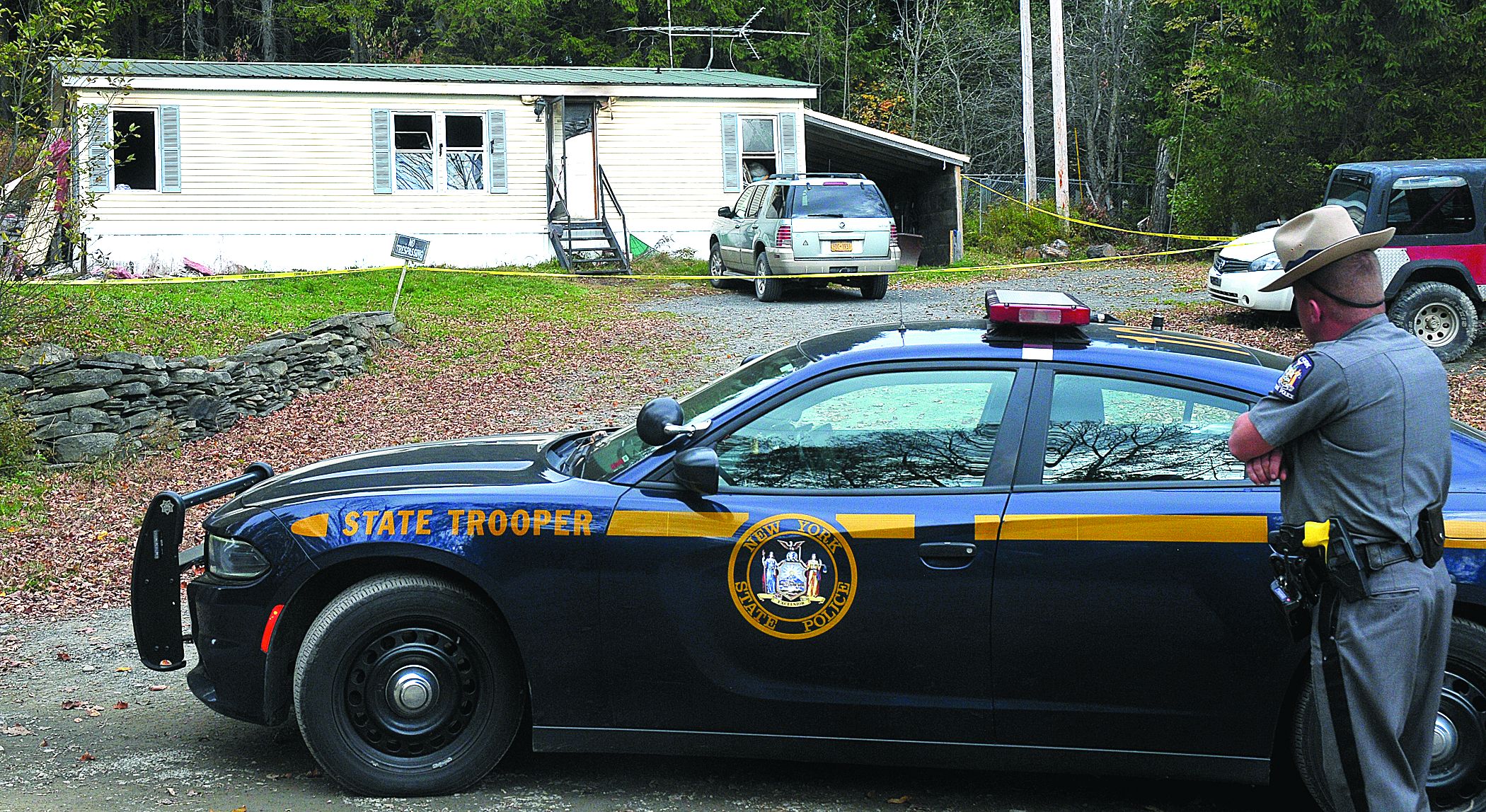 State Police charged four people with murder and burglary for a Worcester shooting Thursday night.
The murder of Kenneth Robinson, 53, happened about 9pm at his home on remote Head Road, after which the house was set on fire, according to Scott Heggelke, captain with the State Police Bureau of Criminal Investigation.
Speaking with reporters at the Oneonta barracks Monday afternoon, Captain Heggelke said robbery was the probable motive but couldn't elaborate.
He said four people entered Mr. Robinson's home, where he was with his two children. Mr. Robinson was shot more than once, Captain Heggelke said.
"The fire was intentionally set" after the shooting, he added, and a neighbor called 911. A trooper arrived and through the front door, saw Mr. Robinson lying on the floor. The trooper pulled Mr. Robinson out, discovering he had been shot several times and was deceased, Captain Heggleke said. Mr. Robinson's children escaped.
The investigation began immediately.
"We were directed to a house in the Town of Oneonta on Route 7, just outside the city line where we found one suspect," Captain Heggleke said.
State Police arrested four more suspects Friday, two in Oneonta and two in Downsville.
"Our goal was to do as many interviews as possible," Captain Heggleke said. "It was a long night and longer morning."
Charged with second-degree murder and first-degree burglary were Nicholas Meridy, 32, two 15-year-olds and a 17-year-old; all four are from the Oneonta area.
A fifth suspect was charged with only first-degree burglary.
"We're confident we know who shot him," Captain Heggelke said, without naming the suspect.
Arson charges may be leveled because of the intentionally-set fire, he said.
As to the probable motive of robbery, Captain Heggelke added that "We have to determine fully what the goal was."
Investigators recovered several firearms, but Captain Heggelke did not say what gun was used in the shooting.
Two of the juveniles are being held in Syracuse, and two are being held in Buffalo. Mr. Meridy is in the Otsego County Jail.
Captain Heggelke cited new Raise the Age laws for not giving more information about the juveniles.
However, the investigation is continuing.
"At this point, we're cleaning up leads and loose ends," Captain Heggelke said.
He urged anyone with information to call State Police at 607-561-7400.
Also helping at the scene and with the investigation were Oneonta Police, Otsego County deputies, state Office of Fire Prevention and Control and Worcester and East Worcester fire departments.