After 40 years, Scofield hangs up sneaks
| | |
| --- | --- |
| 2/12/2020 | By Patsy Nicosia |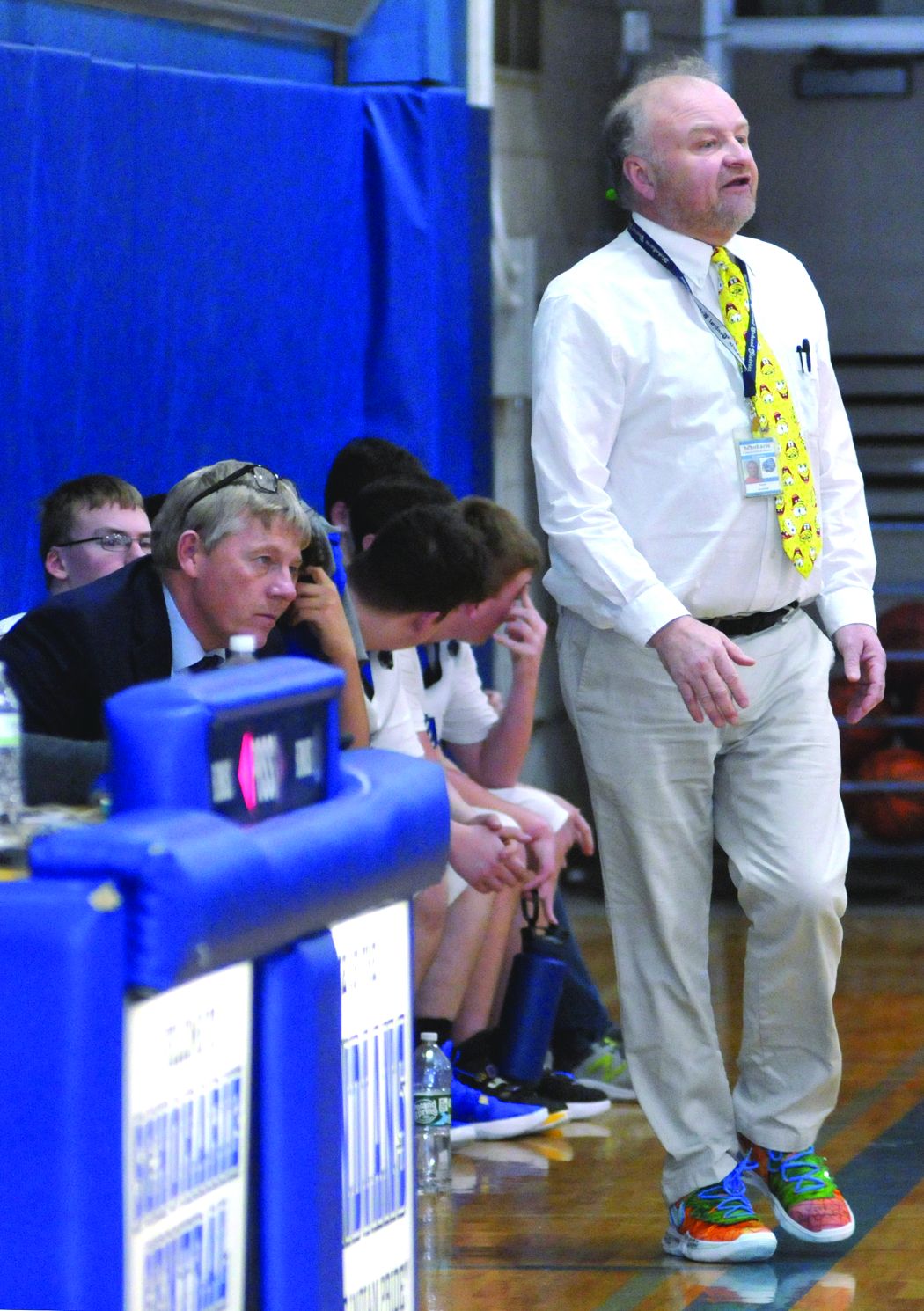 Kevin Scofield wasn't much of a basketball player, but for 40 years, he was a heck of a coach.
Tuesday, the Schoharie Central School icon coached one of his last games—JV boys basketball vs. Notre Dame-Bishop Gibbons—and in a surprise ceremony before varsity took the floor, he was honored with gifts, stories, and a few tears.
But even before that, Coach Scofield, a SCS graduate who returned there to coach in 1980, had a little ceremony of his own:
Flanked by his JV team he took off a pair of neon-colored sneakers, bought specially for the occasion and worn just once, placed them on the court, got to his knees to kiss it all goodbye, and then stood to cheers and applause.
Varsity Coach Shane Barton served as emcee for the more official goodbye, recounting the "awful sophomore" Coach Scofield had in his first year back. "Me. And I'm turning 55 in September so that shows you how long Kevin's been doing this," he said.
Coach Scofield, who'll retire from coaching at the end of this basketball season, has coached more teams and more sports than anyone in SCS's history, Coach Barton said.
And he was born to coach—the highest praise of all, said his own first coach, Tom McCarthy, in a letter read by Coach Barton.
"Kevin wasn't a great player, but he was a good one," Coach McCarthy wrote.
But more than that, he turned out to be a great coach—not just because he was born to coach, Coach McCarthy said, but because he worked hard at it—for 40 years.
He'll never be forgotten, Coach Barton said, and now he has the gifts to prove it: A SCS-blue t-shirt that reads "Scofield 10, A Legendary Coach Has Retired" on one side and a framed photo collage of some of his teams.
And then it was history.
The varsity took the floor to warm up and Coach Scofield was back in his seat next to Coach Barton, black sneakers on his feet.