Last of Summit hotels, Lakeview, burns to ground
| | |
| --- | --- |
| 3/4/2020 | By Patsy Nicosia and Jim Poole |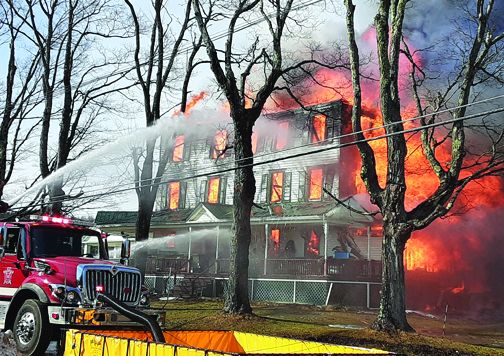 The last of four iconic Summit hotels burned to the ground Monday in a three-story blaze called in shortly after 2pm.
The cause of the blaze at the former Lakeview House is still undetermined and probably won't be, according to Schoharie County Fire Coordinator Matt Brisley.
"It was destroyed so much, there wasn't much structure for us to look at," he said.
"At the end of the day, we like to come away with a cause, but. . ."
No injuries were reported and firefighters said the Schoharie County Sheriff's Office, State Police and first responders helped the owner secure three horses on the property.
Summit Fire and Rescue was the first to respond to the scene of the structure fire at 141 Sawyer Hollow Road with reports that all three stories were on fire.
But the fire had a strong head start, Mr. Brisley said.
"They got there quick and had a water supply from the lake in about 10 minutes," he said.
The Red Cross is assisting Pamela Lounsbury, the property owner, who firefighters said is a member of RVES and was on a call for them at the time of the call.
By 4:30pm the once popular hotel and restaurant was nothing but rubble.
Cobleskill Stone Products sent an excavator to the scene so that firefighters could reach the hot spots, Mr. Brisley said.
"It kind of fell in on itself, and there was no safe way for fighters to reach them," he said.
Assisting were volunteers from Jefferson, Charlottevlle, Richmondville, Cobleskill, and Stamford.

# # #


According to a Mini-History of the Town of Summit by writer and historian Karen Cuccinello, Summit was once a mecca for summer travelers and boarders.
Robinson's Hotel, also known as the Summit House, was built in 1853 on what's now Route 10, last used as a boarding house in the 1940s, and torn down in 1984.
Ryders' or Summit Rest was built in 1853 and burned down in 1965 with the barn there becoming the Red Barn after the fire.
Both the Robinson and Ryder were of Charlotteville Road and Route 10.
The Crowes Nest opened in 1880 and took in summer boarders until about the late 1940s; it burned in 1959.
Last to go was the Lakeview House, which started taking in summer boarders 1881 until it burned—for the first time—in 1904.
It was rebuilt the next year and continued operating as a boarding house, then a restaurant and bar until about 2009.