Law a Marathon swimmer
| | |
| --- | --- |
| 5/12/2021 | By Patsy Nicosia |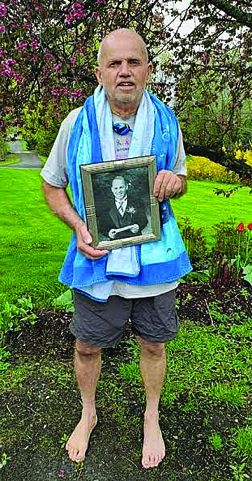 There's no stopping Jerry Law.
By the time Marathon for a Better Life celebrates its 25th anniversary on June 5, he plans to have logged 25 miles in the Clark Gym, Cooperstown's pool in a fundraiser honoring not just those who've died from cancer, but others who are loved and missed as well.
Marathon was founded in 1996 by the late Cherie Stevens as a way to offer financial support and other encouragement for those fighting cancer locally; all anyone has to do is ask, and Marathon writes them a check. No questions asked.
Semi-retired from careers in teaching and farming--he still works part-time feeding calves and relief milking--Mr. Law joined the Marathon Board about six months ago and sees his lifetime love of swimming as his "niche" there.
"I know, it sounds cliched, but it's a way to give back," he said. "My wife Sally and I have been very blessed. We've had careers we loved, we live comfortably and don't want for much. I want my life to have meant something. This is something I can do. A way I can give back."
The Laws raised five sons in Cobleskill and have seven grandchildren and one great grandchild.
The way Mr. Law's Swimming with the Angels fundraiser works is simple: Five days a week since beginning on May 4, he swims a mile in someone's memory in exchange for a donation to Marathon, posting highlights and photos on Facebook.
The first Angel he swam for was his son, Michael, who was killed in November 2002 in a car crash in Rochester.
And Michael was right there with him, Mr. Law said Friday, getting ready for his fourth day in the pool.
"I was about 15 laps in when I started to ask myself what I was doing," he said. "I was struggling, I couldn't find my rhythm. And then it was like Mike was right there in the pool with me. With his hand on my shoulder telling me, 'Dad, relax. You've got this.' He was there. I'm sure he was."
In his first two days of swimming, Mr. Law raised $2,000 for Marathon--and plenty of excitement.
"Who knows how high that will go?" he asked. "The more the word spreads, the more the interest and excitement does too. We're trying to involve everyone we can think of."
Mr. Law grew up on a dairy farm in Franklin, Delaware County, studied music education at Potsdam, and served two and a half years in the Peace Corps in West Africa before getting hired by the late Joseph Radez to teach at Richmondville Central School.
He taught music in Jefferson before retiring from Schoharie to return to dairy farming with his son, Greg.
Greg's gone on to a different career, "but I got left behind," Mr. Law said with a laugh. "I'm still there, helping out, doing what I love."
Financially comfortable, Mr. Law and his wife have always contributed to local charities as well as things like school fundraisers and national conservation efforts. That's also where their stimulus checks went.
And now, Mr. Law is hitting the pool to do more.
"There's no way to say it without it sounding cliched, but we want to leave the world a better place," he said. "Marathon is a way I can do that by doing something I love."
To contribute to Mr. Law's Swimming with Angels or reserve a mile, find him on Facebook, go to MarathonForABetterLife.org, or mail donations directly to Marathon at PO Box 268, Warnerville, NY 12187.

Jerry Law of Cobleskill, who's swimming 25 miles for Marathon for a Better Life, holds a photo of his late son, Michael, who he said was with him when he struggled on his first day in the water.

Over the next month, longtime swimmer Jerry Law of Cobleskill plans to swim 25 miles to raise money for Marathon for a Better Life, which marks its 25th anniversary in June.