More charges pending for motel murderer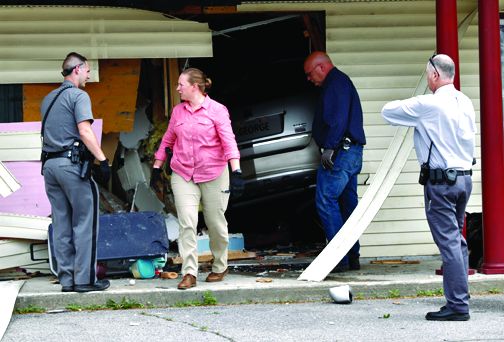 More charges may be coming for Raymond C. George Jr., arrested last Tuesday for plowing his car into another man at the Colonial Motel in Cobleskill.
Charged with manslaughter, Mr. George is accused of hitting James E. Williams Jr. with his car as Mr. Williams was sitting with his dogs outside his room at the motel shortly after noon.
This is not the first time Mr. George crossed paths with police. Years ago, he was convicted of manslaughter/reckless cause of death; later he was convicted of sex offenses and on Tuesday was still on parole for those.
State Police are studying evidence to determine other details about Tuesday's incident, including the speed of the car when it struck Mr. Williams and continued into the motel, according to Cobleskill Police Chief Jeff Brown.
Additional charges are likely then, Chief Brown said.
Also, Schoharie County District Attorney Susan Mallery said search warrants were obtained for the vehicle and room.
"We're waiting for those reports to come back," she said.
Mr. Williams and Mr. George lived at the motel and had argued, though police aren't revealing the subject of the argument, officers said.
Mr. Williams, 50, was entrapped in the wreckage after he was struck, and later died at the scene, according to police. The George vehicle was just barely visible from outside after entering Mr. Williams' residence.
One of the dogs died at the scene; the other, taken to a local veterinarian, was later euthanized.
Mr. George left the scene but was apprehended by State Police on East Main Street between NBT Bank and the former Save-A-Lot market.
Out on parole for conviction of sex offenses, Mr. George was wearing a GPS device, Chief Brown said.
"He was being monitored and it would have taken longer to find him if he had taken the device off," Chief Brown added. "It was fortuitous that we located him as quickly as we did."
Police charged Mr. George, 53, with first-degree manslaughter, a class B felony. After being arraigned in Cobleskill Town Court, he was sent to the Schoharie County Correction Facility without bail.
The case is expected to go to the grand jury this Friday.
Eleven people at the motel were displaced and were assisted by the Red Cross.
Cobleskill Codes Officer Mike Piccolo was at the scene Tuesday afternoon because the motel was unsafe after the crash.
He found the Cobleskill Fire Department, under Cody Whittaker's direction, had posts in place to support the building.
Mr. Piccolo was impressed with all involved.
"Everything went smoothly," he said. "Police, state police, EMS, BCI, fire department, ladies' auxiliary, the district attorney. . .people have no idea how good they are."
Also assisting were the Sheriff's Office and state Department of Corrections.