Stone Fort Days back October 2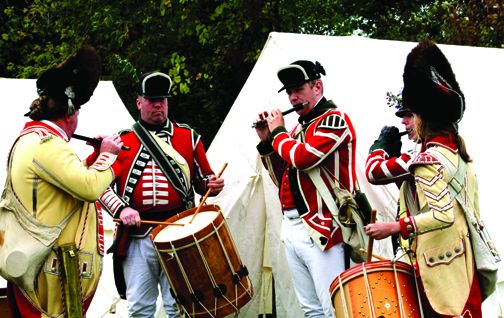 As the color-filled days of October settle over the Schoharie Valley, a long-cherished Schoharie County tradition will return with Stone Fort Day 2021; guests are invited to take a step back in time and experience what life was like in the 18th century, both on the home front and on the Revolutionary front lines, on Saturday, October 2 from 10am-5pm at the Old Stone Fort Museum in Schoharie.
The Schoharie County Historical Society, in partnership with the Valley History Alliance/BVMA, will present a full day of living history demonstrations, hands-on activities, performances, and a glimpse into the military camps of Continental, militia, British regular, and loyalist soldiers.
The day will include programs and demonstrations focused on 18th century farming, the domestic arts, beer brewing, Haudenosaunee (Iroquois) lore and traditions, candle dipping, textile demonstrations, quill writing, 18th century toys and games, medicine, music, and much more.
Other living history activities will include an official flag raising ceremony at 10am to kick off the day-long event, followed by a narrated raid at Beaver Dam scenario at 10:30am, a battle based on Albany County in 1781, and an artillery demonstration at 4pm.
Local author and historian Jeff O'Connor will premier his upcoming book "Skohere and the Birth of New York's Western Frontier 1609-1686" at 3pm and will be available to sign copies of his latest publication "The Old Stone Fort: Guardian of Schoharie County Since 1772".
A returning favorite in 2021 will be the Colonial Cookie Sale featuring delicious "home" baked Joe Frogger Molasses Cookies, Chocolate Jumbles, and Shortbread Petticoat Tails Cookies run by the Schoharie Chapter Daughters of the American Revolution.
Traditional festival favorites, including hamburgers, hotdogs, pulled pork, barbecue chicken, macaroni and cheese will be available from the Cargie's food truck.
Stone Fort Day 2021 will take place outdoors. Event dates and times are subject to change. Admission is by donation.
For more information, follow the Old Stone Fort on Facebook at visit TheOldStoneFort.org or call the museum at (518)295-7192.