Historians to kick off series with Jack Daniels' book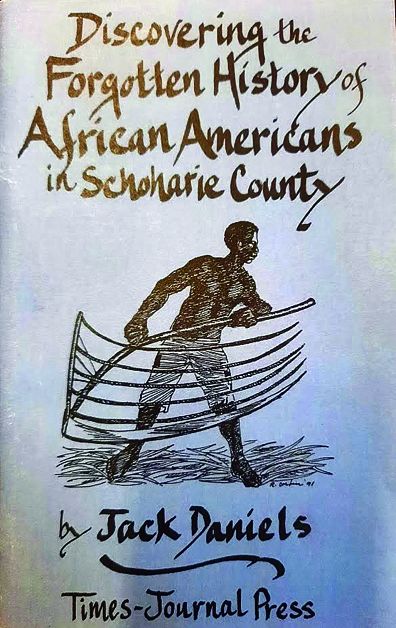 The Schoharie County Historical Society will be hosting an educational series and book club discussion on the book "Discovering the Forgotten History of African Americans in Schoharie County," starting this Thursday, October 21 at 7pm Schoharie Presbyterian Church, 314 Main Street, Schoharie.
The series will continue monthly through April 2022.
When the late local author, historian, and community activist John "Jack" Daniels first published his book "Discovering the Forgotten History of African Americans in Schoharie County," in 1999, he sought to dig into what he believed to be a rich history of Blacks in Schoharie County—a history, he said, that had hardly been touched in previous interpretations of Schoharie County's past.
Spanning more than two centuries, the book begins its exploration into the history of local Blacks in in the early 1700s and continues with a timeline encompassing wars, local agriculture, schools, churches, abolition, businesses, genealogy, and more.
While Mr. Daniels believed he had unearthed what he equated to "historical gold" in his research and ultimate publication of the book, he also understood there was much which remained to be done.
"I am sure there is more historical gold about African-Americans in the county to be mined, but I have completed my share of the digging and writing," he said in the book's introduction.
"I hope there will be others who wish to add to or amend the historical record."
Despite his call to action, much of that continued research had remained undone upon Mr. Daniels' death at the age of 96 in 2012.
The educational series and book club discussion presented by the Schoharie County Historical Society is seeking to take up the mantle set down by Mr. Daniels and take a deeper dive into the subjects, stories, themes, and questions raised in his writing.
With the help of local historians, genealogists, and community leaders, the SCHS will host a series of programs featuring new and continued research into the themes unearthed in the book and inviting participants to take part in an open and respectful discussion on what they have heard and read.
The series will kick off with a welcome and introduction by Katherine Hawkins, a close friend of Mr. Daniels and an active member of Peacemakers of Schoharie County, which made possible the fourth reprint of the book.
Copies of the book will be available for purchase before and after the program.
On Thursday, November 18, SCHS genealogist Catherine Adams will lead a discussion on chapters one and two of the book, taking a closer look at the origins of Blacks in the county utilizing primary sources, census records, and family groups.
Additional programs with Schoharie County Historian Ted Shuart and local historian Peter Lindemann will be held on Thursdays December 16, January 20, February 17, and March 24.
This project was made possible in part by the Institute of Museum and Library Services.