Long Walk Home taking vets across Route 20
| | |
| --- | --- |
| 6/23/2022 | By Patsy Nicosia |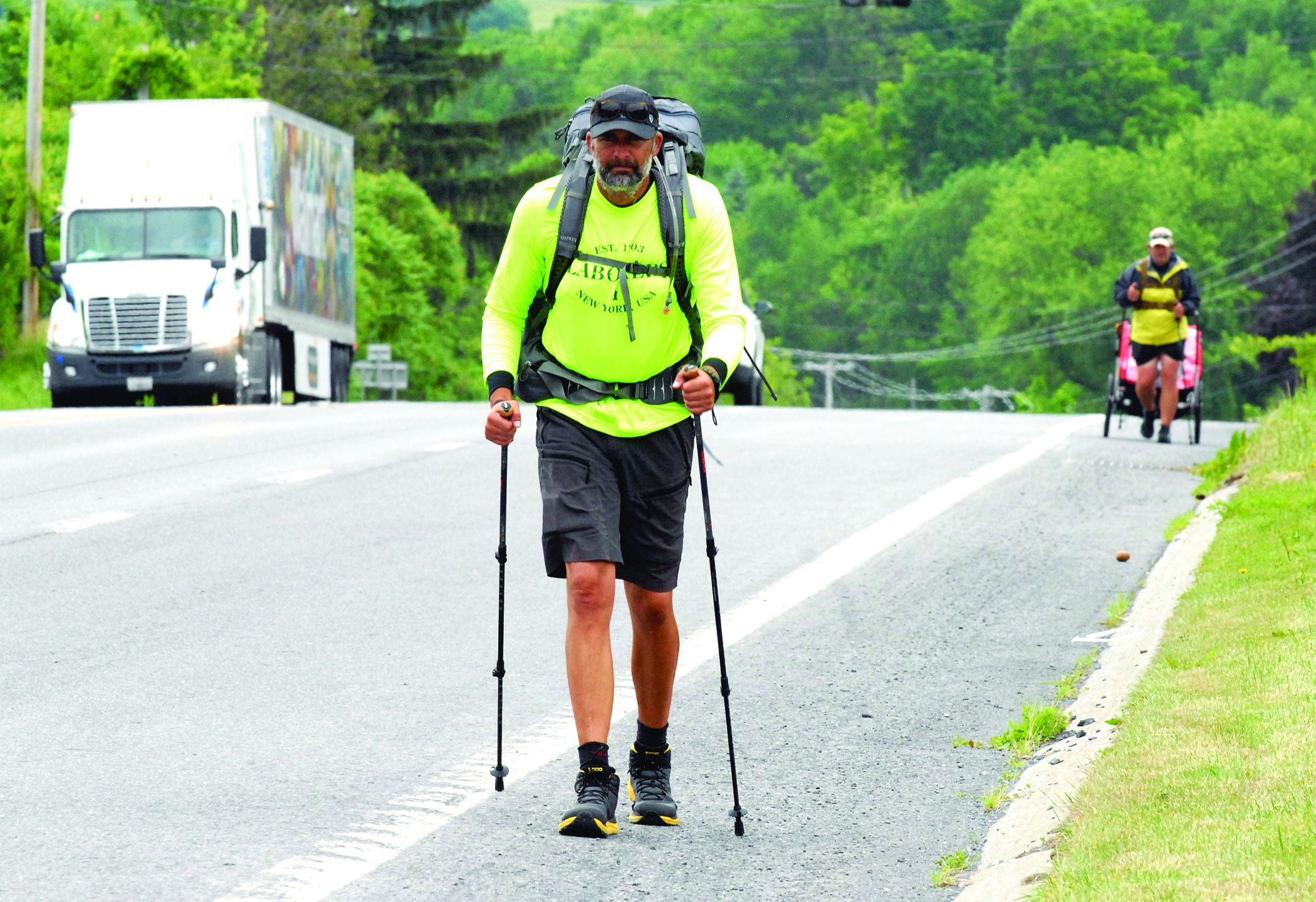 It's a long walk, crossing the country on historic Route 20, but retired Marine Corps veterans Justin Lehew and Coleman Kinzer are up to the challenge.
They're walking from Boston to Oregon as a way to raise awareness about still-missing service personnel—and as a way to raise funds to continue searching for their remains through the organization History Flight Inc.
They're calling their journey the Long Road Home and it is: 3,365 miles across 12 states.
They won't reach Oregon until November.
After walking through Schoharie County Sunday through Tuesday, when they crossed the Schoharie-Otsego County line into Cherry Valley, they're hoping the rest of the trip is…flatter.
"These are some big hills," Mr. Lehew said on a quick break at the top of Sharon Hill just after 10am Tuesday.
Together, Mr. Lehew, 52, from Fredericksburg, Virginia, and Mr. Kinzer, 44, from Kailua, Hawaii, have a combined 56 years of active duty between them.
Mr. Lehew said they average about three miles an hour and 20 miles a day, travel no matter the weather, and spend the night where they can.
Monday, they camped at the Carlisle Fire House. Tuesday, they were headed for a treat, a donated B&B in Cherry Valley.
Along the way, people who've heard of their journey turn out to welcome them to their town, walk with them a ways, or just say thank you.
Tuesday, a small crowd organized by members of the DAR gathered outside Sharon Springs Central School to wait for them and help send them on their way.
They didn't do much physical preparation for the trip, Mr. Lehew said; for starters, how do you prepare for 3,000-plus miles?
"We're just winging it," joked Mr. Kinzer.
Along the way, they're making friends, seeing some of the most beautiful scenery in the country and drawing attention to their cause.
The two walkers are keeping track of their trip with a Facebook page, The Long Road, sharing their stops, photos of road signs, and stories.
In Carlisle, they learned about the late Marcus Heim of Middleburgh, a Distinguished Service Cross recipient with his own story.
Mr. Heim was a member of the Legion of Valor, America's oldest veterans' service organization and made up of all of America's Medal of Honor, Distinguished Service Cross, Navy Cross and Air Force Cross recipients.
Mr. Lehew? He's the Legion of Valor's national commander.