State ag award for Palatine Bridge farm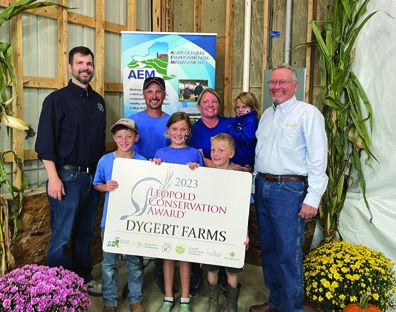 Dygert Farms of Palatine Bridge has been selected for the 2023 New York Agricultural Environmental Management (AEM)-Leopold Conservation Award.
The award honors a farm and its nominating Soil and Water Conservation District for their efforts to protect the environment.
Sunday, State Agricultural Commissioner Richard Ball recognized the Dygert Family at their farm during a celebration recognizing the dairy's tricentennial anniversary.
Owned and operated by Robby and Shannon Dygert, Dygert Farms is a 270-cow dairy farm and dairy processing operation, which crops to feed its cows on 650 acres in Montgomery County.
Through collaboration with the Montgomery County Soil and Water Conservation District, the farm's planner, and the State's AEM Program, the Dygerts have adopted many conservation practices to cycle on-farm nutrients for crop production, continually build soil health, and protect water quality while helping to ensure farm viability for future generations
Given in honor of renowned conservationist Aldo Leopold, the Leopold Conservation Award (LCA) recognizes farmers, ranchers and forestland owners who inspire others with their dedication to land, water, and wildlife habitat management on working land.
"The AEM-Leopold Conservation Award honors the best of the best in conservation and progressive farming," said Commissioner Ball.
"On behalf of the Department and New York State, I'd like to congratulate Dygert Farms on receiving this esteemed award today. Time and again, they have demonstrated their innovative environmental practices, leadership, and dedication to giving back to their community, and I'm proud to stand alongside our partners at the Sand County Foundation to honor them for their efforts, especially as they celebrate 300 years of their family farm."
The couple purchased the family's farm and their first 65 Holstein cows shortly after getting married in 2009.
The farm has since grown to a milking herd of 270 cows and 650 acres of owned and rented land.
They made the move to make, process, and sell their own dairy products, opening the Dygert Farms Creamery processing plant in 2021.
Their milk is sold in grocery stores and delivered to the front doors of area homes.
Dygert Farms was recently honored at the State's 2023 Dairy Products Competition, winning gold in the Chocolate Milk category.