49 years later, seach for Kathy's killer continues
| | |
| --- | --- |
| 11/17/2023 | By Patsy Nicosia |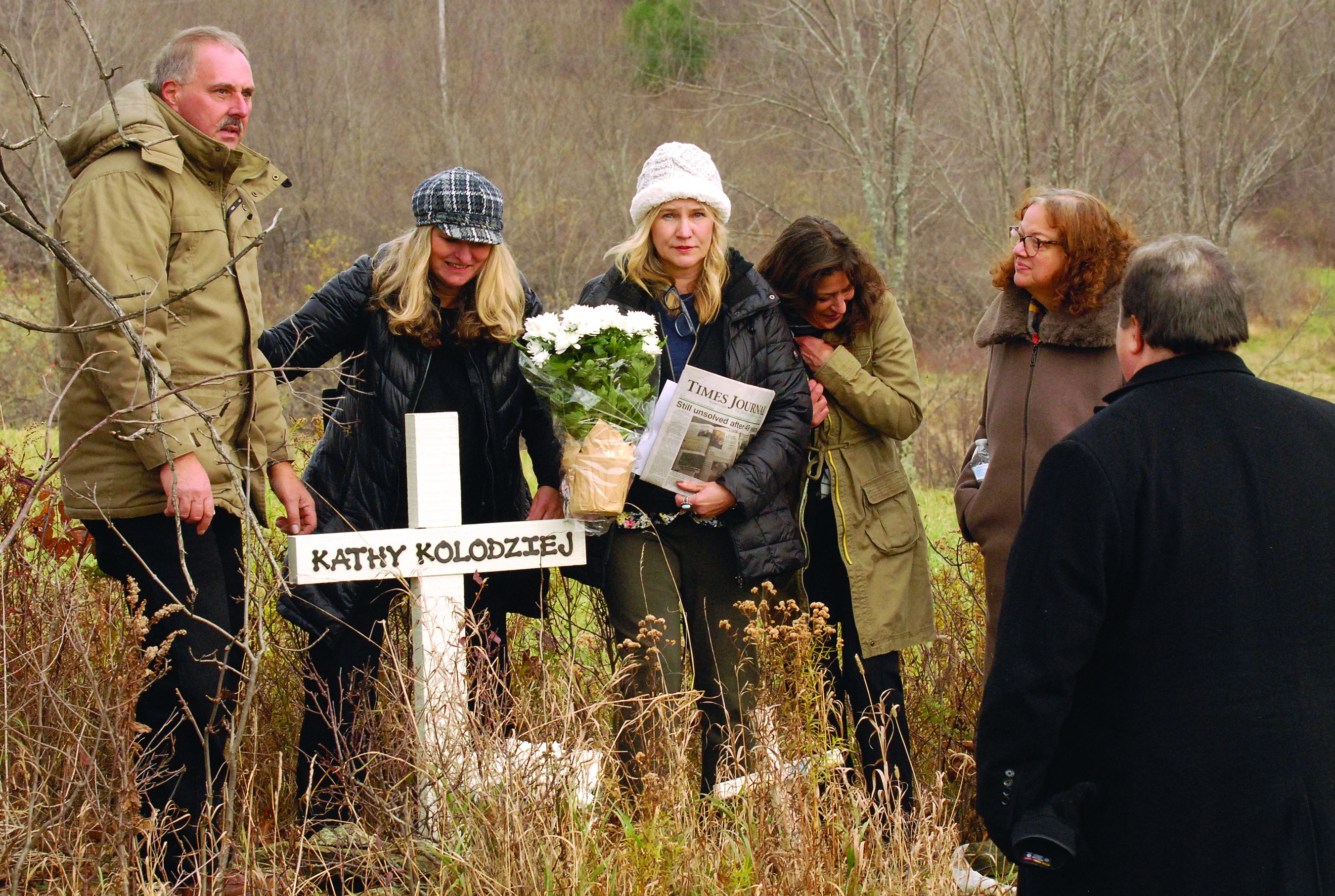 Every November 28th since 2016, when he inherited the Kathy Kolodziej case, BCI Senior Investigator Paul Davignon has driven to the McDonald Road site where the 17-year old SUNY Cobleskill freshman's body was found in 1974, 26 days after she disappeared.
He'll be there this November 28th.
He was there Monday with Michelina Serino, an amateur sleuth from Long Island who stumbled into the case when she moved to Summit two years ago, retired State Troopers, and others, watching as a small group gathered at Kathy's "grave," 49 years after her murder.
"It just eats away at you," said Pat Donnelly of Cobleskill, one of four BCI investigators brought in from Duanesburg and Fonda to Warnerville to work the case for what turned out to be the next four years.
"We followed up thousands of leads. We did what we could. We did our best. It's heartbreaking. All these years later, it's still heartbreaking."
Mr. Donnelly and former Schoharie County Sheriff Tony Desmond, watched from the road as Ms. Serino, her fiancee Glen Svoboda, and two of Kathy's cousins placed a handmade wooden cross and flowers on the rock wall where her body was discovered by deer hunters.
"Even if the murder's never solved, it's important to remember Kathy," Mr. Desmond, one of the first Troopers to respond to the scene on November 28, 1974, said.
"She was a young woman…a girl really. It haunts you. We can't bring her back, but we can remember her. And we can still try to find justice for her."
Maria Kolodziej and Jolanto Perillo, traveled from Long Island to Cobleskill for a noon vigil Ms. Serino held in Centre Park Monday.
The sisters were living in poverty in Poland when Kathy's parents, Hedwig and Andrew Kolodziej, adopted them into their family in August of 1975.
"She didn't talk about it, but I think Heddy was just trying to turn something so awful into something good," Maria Kolodziej said. "She did. She probably saved our lives.
"Sometimes, we'd hear her crying in her room, but she raised us as typical American teenagers. We were blonde, we were interested in boys…We kept her going. As much as she could, she went on with her life."
And Heddy Kolodziej was full of life, Ms. Perillo said.
"She took us to Gettysburg. We said 'We don't want to see this, people sleeping on straw. We did that in Poland. So she took us to Disney World. We laughed about that for years. We are so grateful for what she did for us."
Mrs. Kolodziej died in 2002; her husband in 2001. They were 82 and 78 respectively. One stone marks their and Kathy's grave.
Ms. Serino organized the vigil with two goals: remembering Kathy and hoping to draw the attention of someone, somewhere, who knows what happened to her.
In her remarks at the vigil, Maria Kolodziej asked the public for help.
"If anyone knows something, please come forward and speak to the detectives so this case can be solved and bring closure to the family," she said. "We pray that one day we'll know the truth."
Senior Investigator Davignon said the State Police are still actively investigating Kathy's murder, using technology that didn't exist in 1974 to examine evidence for clues from DNA.
"They did a good job. They did their due diligence," Investigator Davignon said of the original investigation.
"One of the things we started doing, we're going back to the beginning and reading all of the reports, looking at all of the leads, to see if there's anything we missed.
"I think someone knows something, someone who's still out there."
Anyone with information to share with State Police can call (518) 630-1700.
To contact Ms. Serino, who continues to try to put the missing pieces together on her own, email her at Michelina.Serino@gmail.com.