4 Partners send out SOS
| | |
| --- | --- |
| 10/18/2007 | By Patsy Nicosia |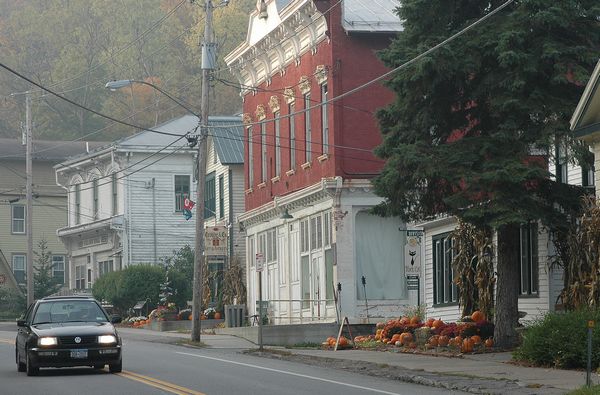 The Chamber of Commerce is sending out a SOS for help in developing a five-year economic strategy plan for Schoharie County.
Since the summer, what's being called the Four Partners Economic Development Summit Committee has been recruiting volunteers to come up with strategies to help "grow" the local economy in: Agriculture, tourism, manufacturing and service, and micro-enterprise.
Though the Agriculture Group is off to a roaring start and Tourism has made some progress, the Manufacturing and especially the Micro-Enterprise Groups are struggling, Chamber President Eric Stein said at a meeting called Friday to gauge the next step.
"Where do we stand?" asked Chamber Executive Director Jodie Rutt. "Do we still have the enthusiasm we had when we launched this? Are there roadblocks? Can we still get the job done?"
In the end, the group of about a dozen agreed to keep forging ahead.
But they also agreed that without more involvement from the outside, the final product—which will be presented at a 2008 Economic Summit likely in January—probably won't work.
"It needs to be like the Four Partners," said Earl VanWormer, chairman of the Board of Supervisors, of the successful lobbying effort that included the Chamber, Farm Bureau, SUNY Cobleskill, and county government.
"We need a community-based plan. The only way this is going to succeed is if the public, businesses, buy into it. We need people to help us find a direction to go forward. Then, everyone can get to work with things like zoning, planning…all working on the same page."
The Summit Committee is working off a "thesis" that assumes over the next five years:
• The county's population will grow more than census projections because of new business and residential expansion pressures and opportunities from the Capital District.
• The county must market and position itself to that advantage of that growth or face poor use of land resources and conflicts among competing enterprises.
• Both infrastructure improvements and workforce development are needed.
• Quality of life is a key community asset and must be preserved.
The Summit Committee has set up "templates" for the four groups to use and there's a broad-base of existing data and studies to draw from, including the Rhodes Study, the Hyett-Palma Downtown Cobleskill Study, County Planning studies and reports, and town and village plans.
But after that, they're on their own.
Linda Cross, a member of the Agriculture Group, talked about plans to survey farmers on their thoughts and concerns using a list of contacts put together with information from the Farm Bureau and Cooperative Extension..
Larry Phillips , a member of the Micro-Enterprise Group, said he likes that idea, as did Chuck Finin, contact for the Manufacturing Group.
Both said they were stumped as how to put together their own lists of contacts—until Ag Marketing Specialist Lee Pratt said County Planning has just finished compiling one.
"I really like the idea of a survey," Mr. Phillips said.
Other Summit Committee members pointed out that may also be the best way to find people interested in getting involved in the process.
"We're not asking for a lot of time," Mr. Van Wormer said. "But we do need help if we're going to keep this idea going."
Anyone interested in helping the process—or who can suggest someone else who might be—can contact Ms. Rutt at the Chamber, 295-6550, or one of the group contacts: Chuck Finin, Manufacturing, 234-2000; John O'Donnell, Tourism, 234-4467; Julie Pacatte, Agriculture, 234-3751; or Larry Phillips, Micro-Enterprise, 234-0077.