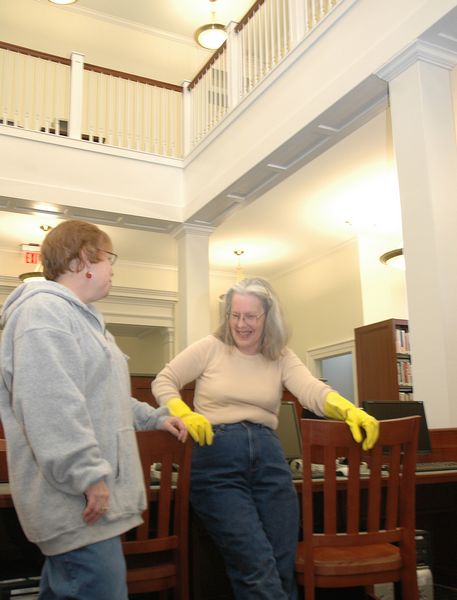 Nearly $2 million and a year later, The Community Library moved back into its refurbished quarters on Union Street in Cobleskill.
The library reopened yesterday after a project that totally renovated the 1884 building.
"We're still tweaking a few things here and there, but as far as opening goes, we're ready," Librarian Christine Dickerson said on Monday.
Planned for years, the renovation increased the library's space from one floor to three, remodeled meeting rooms, doubled the number of computers and overhauled plumbing, heating and electrical systems.
But even though the building has been completely revamped, it still has the look and feel of a 19th Century structure, Ms. Dickerson said.
"We've had a few groups in here, and everyone is speechless, astonished," she said. "Everyone's just so pleased that the building's character has been retained."
The renovation cost $1.875 million, most of which came from a $1.6 million referendum approved by voters several years ago. Donations and grants made up the rest.
The library was temporarily housed in the former car dealership on Barnerville Road during the project. It was closed for three weeks while workers assembled shelves and moved books and equipment back to Union Street.
Those who remember the old library as cramped and dreary will be surprised. There's a large, railed opening that connects the first and second floors; the opening not only allows staffers to maintain noise levels on both floors but also creates a sensation of space.
Adult and junior non-fiction is on the first floor; teen and adult fiction is on the second.
There are also a teen room, local history room, children's room, a study and a periodical room. The library used to have 11 computers but now has 22 spread out in several rooms.
The basement will be a program area for large groups.
"I still don't know if I can walk through it and take it all in," Ms. Dickerson said.
Project Engineer Dave Holmes, who designed the heating, air and electrical improvements, was inspecting the library Monday and liked what he saw.
"It's a massive increase in capability and capacity," he said. "It's a quantum jump."
Also taking a look was Emily Kohout of Architecture Plus, the firm that designed the layout.
"It came out as well as we thought it would," Ms. Kohout said.
"We're excited about the library finally getting back. We hope it meets the needs of the community."
The library is open 35 hours per week, and Ms. Dickerson wants to add more hours as volunteers and money permit.
"We want to extend hours as soon as we can, but now we have to staff two floors," she said.
"We'll have volunteers on the second floor, and we need some good volunteers for this year."
The library is open Tuesday 10:30-8; Wednesday, Thursday and Friday 10:30-6; and Saturday 10-1.