Schumer hits Bush hospital cuts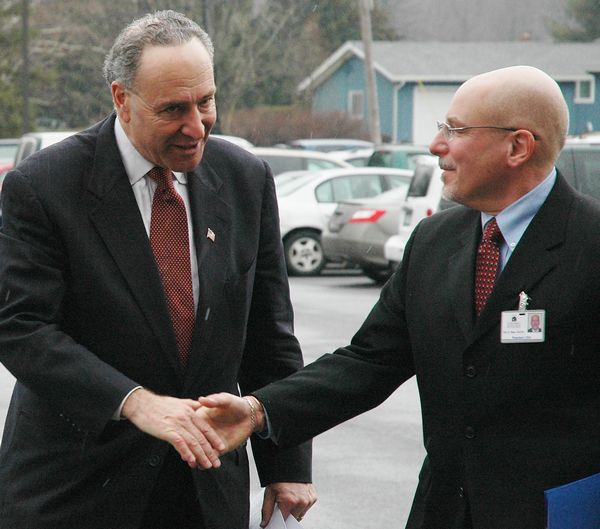 Pledging to restore planned cuts for Cobleskill Regional Hospital, Senator Charles Schumer blasted President Bush's plans to slash funding to hospitals during a visit Monday.
After meeting with CRH leaders, Senator Schumer called for the Senate Budget Committee to protect hospitals from the Bush cuts included in the proposed 2009 federal budget.
"This budget gives the meat axe to Cobleskill Regional Hospital, and I am going to fight it every step of the way," Senator Schumer said.
President Bush's proposal to cut Medicare and Medicaid funding would slice an estimated $204,000 from the hospital's budget in 2009, according to Eric Stein, hospital president and CEO.
Applied to the 2008 budget, the $204,000 would represent about half of the hospital's projected net income.
And over five years, President Bush's plan would cut $2.585 million from the hospital's budget.
"For a hospital our size, that's pretty significant," Mr. Stein said.
The cuts could affect projects the hospital has started over the past few years: long-term care, modernization, upgrades in medical imaging and efforts to improve safety, among others.
"Funds for all of those come from our operating income," Mr. Stein said. "What we spend is what we earn. If you take half of that away, it hurts. It hurts a lot."
Most of the Medicare savings in the Bush plan would come from reducing the annual update in federal payments to hospitals, nursing homes, hospices, ambulance services and home-care agencies.
Because hospitals such as CRH depend on these payments, Schoharie County residents could see a decline in services, Senator Schumer said.
"Instead of cutting the legs out from under our health care system here in Schoharie County, we should be giving it the resources it needs to flourish and modernize," Senator Schumer said.
Mr. Stein doesn't think President Bush's plan will stand as is.
"I believe it will be modified," he said. "It's just a starting point, as these things usually are."
Congress is likely to restore the proposed cuts, and hospital associations––of which CRH is a member––will lobby heavily against the Bush plan, Mr. Stein said.