Middleburgh gets another chance
| | |
| --- | --- |
| 2/20/2008 | By David Avitabile |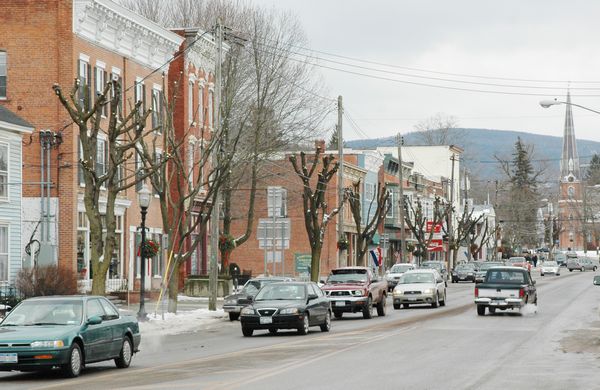 It was not yet the classic Old West ghost town, but in the winter of 2000-2001, Main Street Middleburgh was struggling.
Shops and stores were closing. For rent and for sale signs filled the large display windows instead of merchandise. The remaining businesses were struggling, fighting Wal-Mart and a decline that had been creeping in for many years.
Since then, the change in Main Street did not happen overnight but it has been dramatic.
On January 26, the Schoharie Chamber of Commerce honored the community of Middleburgh as the business persons of the year, an award that a few years ago would have seemed as unlikely as the New York Giants beating the unbeaten New England Patriots in the Super Bowl.
There are still some vacant store fronts.
The old 5&10 is still empty. The shops at the theater are not filled. There are some vacancies on Railroad Avenue and other spots, but on the whole, the change has been dramatic.
The survivors still line Main Street and Railroad Avenue.
NAPA, Hubie's Pizzeria, the Conglomerate, Kelley's, the Chinese restaurant, Mrs. K's, Joe Muniz, Value Village Wine and Liquor, Wayman's, Middleburgh Hardware (with a new owner), the dentist office, among others, weathered the storm and continue to serve customers.
A big change has been the influx of new businesses the past few years.
Magee Realty, Middle Village Pasta and Grill, Sweet Temptations, M&J's Café, The Stove Company, the Wolfe Art Gallery, Monaco financial consulting services, and others have set up shop.
Another shot in the arm has been the upgrades of some of the long existing businesses including the Conglomerate, the theater, hardware store and Hubie's.
• • •
"To attract people we have to present a pretty picture." Herb Emmons, February 2001.

"Success is contagious," said Frank Monaco, the owner of Value Village Wine and Liquor and a financial consulting service.
"When people see something good, they want to be part of it. It snowballs."
Patty Eddy-Beal, owner of the Conglomerate said one business owner would improve their business, then another, then another.
Hubie's got a new storefront, then the dentist's office was painted, then the liquor store.
"It just became a snowball over the past 10 years," she said.
The first snow flake was the purchase and facelift of the old Valley Theater. The Beals have not finished work on the theater but it jump-started things about 10 years ago, she said.
Debbie Magee opened her real estate office on Main Street in 2004 and has seen the change.
"People got excited and wanted to be part of the momentum," she said.
• • •
"We need a strategic way to accomplish the objectives of revitalization." Gary Hayes, February 2001.

Monthly meetings began to be held on Main Street revitalization, a class from RPI did a streetscape design, a façade renovation law was approved, applications were prepared for grants, and a matching grant was approved for façade improvements.
Several groups got to work. People started to get involved.
The Rotary, the Revitalization Group, the Century Club, the Middleburgh Telephone Company, the Renaissance group, the local merchants, the members of the town and village governments all had a hand in the turn around.
"It's been a great community effort," said town supervisor Dennis Richards.
The local business people deserve most of the credit, he said, for improving their properties.
Government officials worked hard to secure grants, noting that the village and town have been able to get four small cities grants from the state in the last five years.
The grants, along with "member items" from our local state representatives, help Middleburgh "get the best bang for the taxpayers' buck," Mr. Richards said.
"We brought a lot of money into the community."
There were plenty of people who planted the seeds, and then nurtured them to fruition.
Supervisor Dick Hanson died before he could see the renaissance of Main Street but was instrumental in the rehabilitation of River Street.
The rehabilitation included a restored stone wall and period lighting. More old-style lights were put on a renovated bridge over the Schoharie Creek.
Former Mayor Gary Hayes remembered the work of former mayoral candidate Peter Braman who helped spur the revitalization effort.
While River Street and the new library were tangible examples of the revitalization effort, the use of one of Middleburgh's best resources, its people, was the biggest step, Mr. Hayes said.
"People got into it," Mr. Hayes said.
"The key was using the people as a resource…People were working together, there were no fractions."
Mr. Monaco added, "The merchants on Main Street and the village government teamed because they saw something could be done."
Mr. Monaco also cited the work of state representatives John Faso and James Seward, along with the Mr. Hanson, Dr. Emmons, James Meinsma, among others.
"We owe them a lot," Mr. Monaco said.
There was no shortage of people wanting to help, he said. When one person had to drop out, others would step in to lend a hand.
Another important factor is that personalities were kept out of it, Mr. Monaco said.
"They kept their egos out of it. They wanted it for Middleburgh…That's what happens when you really care about things, he said.
"When it comes to accomplishing things here, people come together," Ms. Magee said.
The love of the village and town was a common thread.
"We love where we live," Mr. Monaco said. "We wouldn't live any other place…Middleburgh has become a destination."
Ms. Magee said she has sold about six buildings on Main Street.
With each sale, she gives the new owners the "sis, boom, bah" speech, praising the town and village.
"The people care about this community," Mr. Richards said. "We work very well together."
Mr. Hayes added, "We maximized everything we did. We developed ownership."
Business owners began to invest more than ever.
"People continue to make investments into their businesses," Mr. Monaco said.
The eateries in town have been a big success, Mr. Monaco said.
He said events such as the August garage sale day have brought more people into Middleburgh.
• • •
"I don't think I've seen the town as it is now, with so many empty stores." Marilyn Vilegi, February 2001.

Mr. Monaco said that the bottom was around 2000.
Officials told him that it would be five years before everyone would see the fruit of their efforts, he said.
"The fruit has grown on the tree and we are taking it down now," he said.
Ms. Magee remembered how vibrant the village was when she attended high school in the 1970s.
After looking at two Main Street apartments in 2004 she "got physically sick."
It wasn't always that way, she said.
People have come together to work toward a common goal, she said.
"It's motivating," Ms. Magee said. "We have to be ambassadors of Middleburgh."
People have put aside their differences.
"When it comes to accomplishing things here," she said, "people come together."
Ms. Magee lives in Westerlo and has worked on revitalizing other areas.
Comparing Middleburgh to other areas "makes Middleburgh shine," she said.
• • •
"It's happened very slowly over the past 20 years, and when it happens slowly you almost don't notice it." Dick Hanson, February 2001.

In addition to incoming businesses and beautified storefronts, two big improvements for the town and Middleburgh have been the new library and the renovation of River Street.
In a February 21, 2001 Times-Journal article titled "The decline and future of Middleburgh's Main Street," community leaders stressed the need for long-range planning and cooperation.
"Middleburgh needed and deserved more than it was getting," Mr. Hayes said.
"It was ignored for too long a time."
Mayor Bill Ansel-McCabe said there were several seeds to Main Street's turn-around.
Renderings by a group from RPI gave people an idea of how Main Street businesses could look. Chris and Jennifer Hubbard then renovated Hubie's even before grants were available, the Mayor said.
Help from the telephone company boosted civic pride as did the renovation of River Street.
"It kind of mushroomed from that," he said.
A $50,000 grant helped people renovate their storefronts and start new businesses.
• • •
"The town has potential. Our setting is spectacular. We have everything going for us." Ms. Vilegi, February 2001.

Just because Main Street looks better now, does not mean the job is done.
"You can't just fix the street front," Ms. Magee said, "You have to occupy them."
More and different businesses are needed, she said.
"The businesses of the 1970s aren't applicable to the businesses of today," she said.
They have to be geared more toward tourism and not service.
She recently told the new owner of a Main Street building that the village could use a book store. A deli would also be a welcome addition.
"We give them ideas of what's worked in other communities."
More signs and local events are also being looked at.
More "to enhance the green of the valley," Ms. Magee said.
"The potential for Main Street is excellent, much better than before," said Dr. Emmons, who gives a lot of credit to Mr. Hayes and Mayor Ansel-McCabe.
"People talk about Middleburgh, the beauty and the change. That's a really positive thing."
People are investing in the village but that has to continue, Dr. Emmons said.
"We're on our way…
"When you hear people talk about Middleburgh now it's much more positive," he said. "It sounds great and hopefully it will continue."
Dr. Emmons said more parking is still needed and a bike trail could be an important addition.
The progress has been excellent but cannot stop, Mr. Richards said.
"I don't think we're done yet," he said.
"We've still got progress we're going to make."
He said there are plans to wrap all the trees and the bridge in LED lights.
"We're trying real hard to excel, to succeed in our community."
Mr. Richards emphasized that investment has to be made by shoppers as well as business owners.
"People need to support our local businesses. That's critical in the process," he said.
The job is more than halfway done, the Supervisor said.
"We're probably two-thirds of the way," he said.
"I think we're going to get there. I'm optimistic."
Ms. Eddy-Beal, who also noted the importance of shopping locally, added, "It's a gradual process…10 years ago it was depressing to drive through town. Now Middleburgh's hot."
She did add, "We're far from being done."
Mr. Hayes said work has to be completed on several projects such as the depot restoration, the riverfront park, the rails to trails path and a skating park.
"It's fallen," he said of some of the plans, "we need to keep going and moving forward."
Just as the River Street renovation project and the new library were looked upon as important additions seven years ago, many see the new Bassett Healthcare Center in the same light today.
The center, which is expected to be done this spring, should bring more people downtown, Mayor Ansel-McCabe said.
Those people will hopefully shop and have lunch or dinner, he said. The center will also add more jobs.
"The health center will be a big plus," Mr. Monaco said.
While there are still some empty storefronts, the Mayor said some could be filled soon.
The former Target Real Estate building has been sold and there are plans for renovations and a new business, he said.
There are plans for work on other buildings and new businesses, Mayor Ansel-McCabe said.
More funds are coming into the village for Main Street improvements, he added.
A $225,000 Main Street matching grant is in the process of being approved for improvements to facades as well as apartments.