Richmondville draws a crowd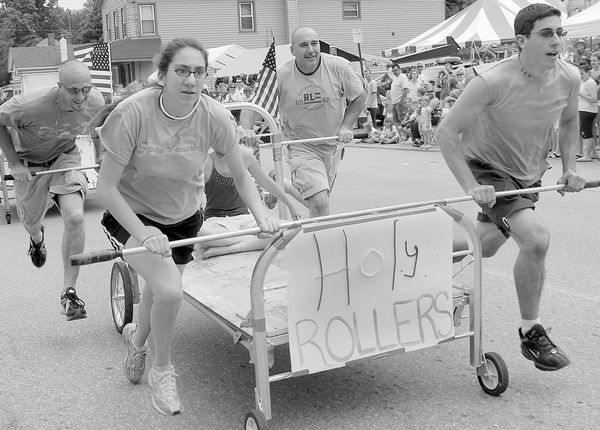 Nearly all of Richmondville turned out in all its glory Saturday for, what else?
The 32nd annual Richmondville Days.
With the theme, "Cruisin' into Summer,' the event began on Friday and ran through Sunday, but most of the fun went down Saturday with everything from a parade, to Richmondville's largest ice cream sundae to bed races.
At the fire house, Freckles the clown entertained the younger set, Bunn Mill was a beehive of activity, and there were rummage sales and flea markets everywhere.
The Richmondville Trolley toured points of interest with Arnie English providing the narration and there was all kinds of food for everyone.
Grand marshal of the parade was Bruce Stevens, who is retiring as superintendent of Richmondville Power & Light after 31 years.
The parade drew more than 50 entries.
Fire department parade winners included:
• Newest equipment—Charlotteville.
• Oldest equipment—Cobleskill.
• Best formation—Richmondville.
• Longest distance traveled—Middleburgh.
Parade float winners included:
• Best representation of theme—Radez Morning Program.
Winners in other parade categories included:
• Best crowd pleaser—Bank of Richmondville, Schoharie.
• Funniest—Fireball Express.
• Overall judge's choice—Emerald Valley Farms.
• Best overall marching unit—Cobleskill-Richmondville High School Band.
• Best appearing antique car—Bill Shafer's 1955 pink Ford.
Cow Chip Challenge winners were: Mary Ann Carey, Latham, $100; Donna Koerner, Schenectady, $150; Bruce Knapp, Richmondville, $250; and Kyle Pangman, Warnerville, $500.