BBQ raises $5,000-plus for Tyler
| | |
| --- | --- |
| 1/21/2009 | By Patsy Nicosia |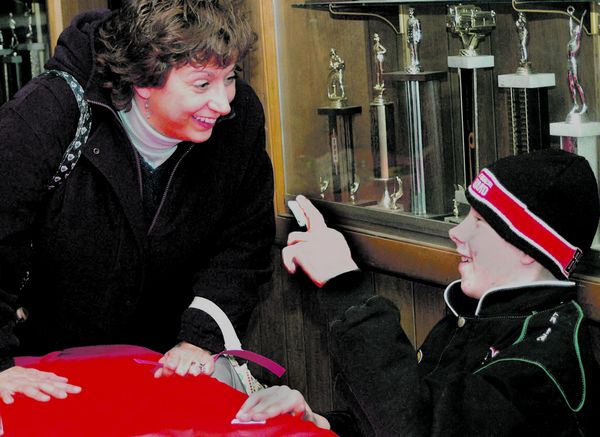 Most of Sharon Springs and a good contingent from both Vermont and New Hampshire sat down for an old-fashioned chicken barbecue Saturday and it was all for a good cause.
Organized by Chris Parker of Curtis' All American Restaurant in Chester, Vermont, the BBQ and the raffles and the door prizes and the music and the Middle School dance the night before were all fundraisers for Mr. Parker's cousin a few times removed, eighth-grader Tyler Woods of Sharon Springs.
Tyler, the son of Kari Jo Woods and Jonathan Woods, was diagnosed with stage four adrencortical carcinoma—cancer of the adrenal glads—in October.
Tyler was on hand Saturday and in good spirits as he hung out with friends and drew the winning raffle tickets.
All of the money raised—close to $5,000 with more still coming in, according to Mr. Parker—will go to help Tyler's family with their medical bills.
"I can't begin to tell you how excited we were about the incredible turnout," Mr. Parker said afterwards.
"The family was overwhelmed."
Mr. Parker brought along nine family members from Vermont and New Hampshire; together with volunteers from Sharon, the fire department, and the school, they served a sit-down dinner and hundreds of take-outs to two seatings in a packed fire house.
"Especially the school," Mr. Parker said. "Without their help, I'd have been lost and probably still hiding behind the building.
"Everyone—the businesses in Sharon and Cobleskill who donated prizes, the band [Shaky Ground], and Fire Chief Greg Baxter, who we woke up more than once with questions—we couldn't have done it without them."
Tyler's grandfather, Terry Martin, was one of those selling BBQ tickets at the door.
"We fed nearly 600 people," he said. "Can you imagine? The response was humbling. I'm especially proud of my nephew, Chris, and to everyone who helped out, thank you."
Tyler has a website tracking his progress at: www.caringbridge.org/visit/tylerwoods.