Obama brings change to Schoharie County
| | |
| --- | --- |
| 1/28/2009 | By Patsy Nicosia |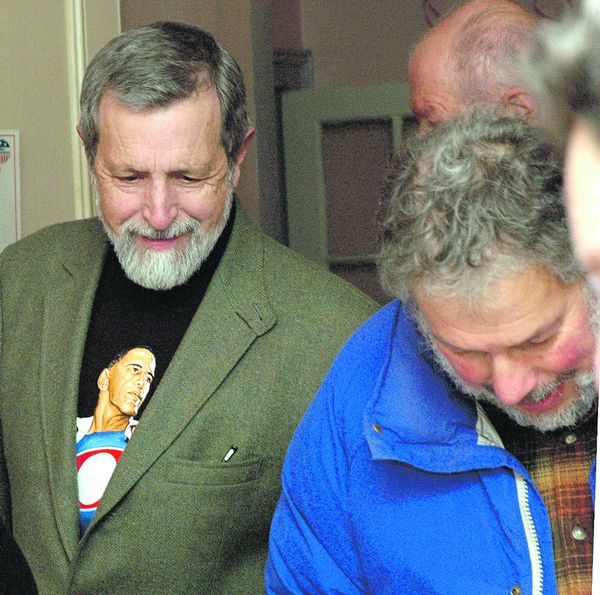 Even as President Barack and First Lady Michelle Obama were taking the floor at their first Inaugural Ball last Tuesday, the day's events were all the talk at the DAR Hall in Schoharie.
"I had to pull myself away from the TV..." said Nan Stolzenburg of Wright.
Gloria Santillo of Sharon Springs said it was the same for her.
"It's a good day to be an American," said another supporter.
"I just hope he keep thinking outside the box. Maybe something with alternative energy..." suggested another man.
Billed as Schoharie County's Inauguration Event '09, the evening of entertainment and light refreshments was the brainchild of Bob Smith and about a dozen others as a way not only to celebrate the election of a new President, but to build on the change he promises.
"Obama said that if change is going to happen, it's going to take all of us," Mr. Smith, a former Wright supervisor, said before a few formal remarks.
"That change has to come from within. No one called us here tonight. We did it on our own. That's what this country needs now."
Calling themselves Friends for Schoharie County, Mr. Smith and the others at the DAR Hall Tuesday are hoping they can do the legwork for supervisors and others, helping to define what the issues are and possible solutions.
One of them, Kathy Catlin said she's really just riding on Mr. Smith's coat-tails, pointing out that at 72, he sees the need to get more young people involved.
"This is really Bob's vision,:" she said. "One thing he has in common with the President is that they were both community organizers. I think they both have that spark that makes people want to pull together and maybe that's a way to change things."
With Mr. Smith by his side, Stanley Skinner of Middleburgh explained the concept of the non-partisan Friends for Schoharie County to the crowd: Local politics in the very best sense of the words.
"That's what got Obama elected," he said. "That's what this is all about. It's not good enough to just vote in every election. We need to support our new President and advocate for programs that are important to us. It's up to us to change things. Are you with me?"
"Absolutely!" "Yes!" called the voices from the crowd.
Friends for Schoharie county will meet again Tuesday, February 10 at 7pm at the Presbyterian Church, Schoharie.
Suggested topics could include, but aren't limited to: Sustainability, green energy, promoting the county, and growth.
For more information contact Mr. Smith at 872-0518.