Jason's killer convicted; life, no parole
| | |
| --- | --- |
| 12/9/2009 | By David Avitabile |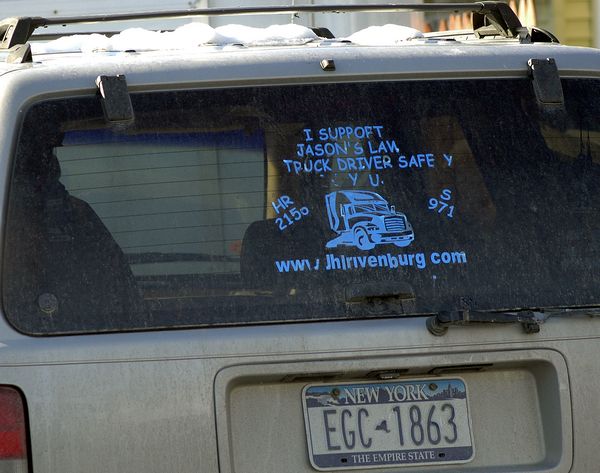 The man who shot and killed Fultonham truck driver Jason Rivenburg for $7 in March was found guilty by a South Carolina jury and sentenced to life without parole Friday night.
Willie Pelzer, 22, stalked and then ambushed Mr. Rivenburg at an abandoned gas station the night of March 5. Pelzer, prosecutors said, wanted money for drugs.
Pelzer, who was on parole on charges of grand larceny at the time, was sentenced to life without possibility of parole by Judge Jimmy Williams, said head solicitor David Pascoe, who prosecuted the case.
Mr. Rivenburg's wife, Hope, attended the trial "from start to finish." The trial began with jury selection last Tuesday and ended Friday with the verdict and sentencing.
Though she was glad to see that Pelzer was convicted, the verdict cannot erase what happened.
"I'm glad he (Pelzer) can't get out of jail but that's nothing compared with what he took away from us," Ms. Rivenburg said Monday afternoon.
"It's nothing to what he did to Jason. It's not an equal punishment."
Pelzer, she said, can still talk with friends and family "but we can never talk with Jason again."
Ms. Rivenburg was one of several family members, including Mr. Rivenburg's aunt and mother, who spoke at the sentencing.
Though she was nervous, "I want him (Pelzer) to know what he took away."
She said she is pleased that the murderer was found and that he admitted wrong doing but she added that she has "strong hatred" toward Pelzer.
She said she is 95 percent sure that if Pelzer had asked her husband for the money, Mr. Rivenburg would have given it over "and walked away."
The Rivenburgs were married for more than three years. They had a son and less than two weeks after the murder, Ms. Rivenburg gave birth to twins.
While pleased with the verdict, Mr. Pascoe said justice can never be served in murder cases.
"I have prosecuted hundreds of murder cases," he said. Some have results in a sentence of the death penalty, and some life in prison.
"You never have justice in a murder case," he said Monday morning.
While Pelzer is going to live a difficult life in a maximum security prison in South Carolina "at least he still has life."
Pelzer will be able to talk with people in prison, he added.
"Nothing is going to bring Jason back."
He said he hopes they do not think ill of South Carolina.
The killing was the only murder in Calhoun County since Mr. Pascoe has been head solicitor for the past five years.
"A lot of people in this county hurt because of this murder," Mr. Pascoe said.
Mr. Pascoe said the state had strong direct and circumstantial evidence against Pelzer.
Both Jim Haygood, 21, and Willie Reed, 21, who were not at the scene of the murder but helped Pelzer dispose of the gun, testified for the prosecution, Mr. Pascoe said.
In addition, phone records were very important in the case, said Mr. Pascoe.
Police secured Pelzer's cell phone records and they showed that while he sent hundreds of text messages a day, there was no activity at the time of the murder pinpointed at between 1:55 and 11pm on March 5, Mr. Pascoe said.
Mr. Rivenburg, 35, of Tetterbark Road and a 1991 Schoharie Central School graduate, apparently stopped to rest at the gas station off of Interstate 26 at about 10:30pm the night of the murder.
Mr. Rivenburg was a part-time trucker for VanderVeen Trucking in Delanson and was hauling organic milk when he parked his 18-wheeler to rest when he was shot through the window.
After the murder, Mr. Rivenburg's relatives formulated a law to provide secure rest areas for truckers.
Nicknamed "Jason's Law," the bill is now in committee in both houses of Congress and could be enacted shortly, Ms. Rivenburg said.
The bill, drafted by Congressman Paul Tonko, would provide $120 million in a program to address the shortage of parking for commercial vehicles.