Cobleskill woman charged in larceny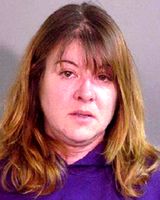 The Princetown State Police arrested a Cobleskill woman last Monday on charges of second-degree grand larceny, a C felony, after a three-week investigation into alleged theft of funds from a Rotterdam business.
Angela J. Berry, 35, was allegedly taking $7,000 to $8,000 per month from a Rotterdam business, police said.
A review of financial records showed a loss of $149,000, police said. The thefts allegedly began in the summer of 2007.
Cooperating with police, she turned over a 1999 motor home, a utility trailer and three ATVs, police said.
She was arraigned in the Town of Rotterdam and released on her own recognizance to return to court on February 22.