Votech cooks up 2nd place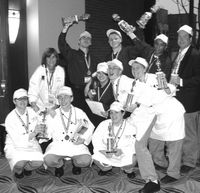 Two teams of Culinary Arts & Hospitality Technology students from the Capital Region BOCES Career & Technical School, Schoharie, earned a ranking of number two in the state at the 2010 New York ProStart Competition on February 5 at the Crowne Plaza, Albany.
In addition to studying at Career & Tech, the students attend four area high schools.
The Culinary Team cooked their way to second against 14 other student teams from across the state, while the Management Team matched managerial wits with nine other teams to bring home their trophy.
The students competed with the support of the New York State Restaurant Association, member of the National Restaurant Association, which runs the ProStart professional education program.
The students are taught by Chef Nancy Iannacone, 2007-08 New York State ProStart Teacher of the Year and instructor of the 2007 and 2008 New York State ProStart championship teams.
The competition, according to Ms. Iannacone, is "real world training.
"Our teams have to demonstrate their creative ability, skills and professionalism. Their performance is observed, critiqued and rated by judges from leading colleges and universities and from the restaurant and food service industry. It's such a great experience for the students," she said.
Ms. Iannacone praised the New York State Restaurant Association and Educational Foundation for supporting her students' training and competitions.
"They work tirelessly to sponsor this event every year," she added.
ProStart is an educational restaurant and foodservice management program developed and supported by the National Restaurant Association.
The program includes rigorous coursework and on-the-job training and leads to nationally recognized, professional ServSafe certification.
Founded in 1919, the National Restaurant Association and National Restaurant Association Educational Foundation represent, educate and promote a rapidly growing industry that is comprised of 935,000 restaurant and foodservice outlets employing more than 12 million people.