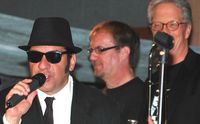 It was an evening for blues and soul at SUNY Cobleskill Saturday night.
The second annual "Communiversity Fundraiser" brought the Blues Brothers and friends to town to generate funds for local food pantries––and have a wild time doing it.
The Blues Brothers Band Tribute Show featured the band Hats 'n' Shades, with Gene Dinapoli and Bob James as Jake and Elwood Blues, along with impersonators C.P. Lacey as James Brown and Linda Miller as Aretha Franklin.
Held in the college's ballroom, the event featured dinner by the Bull's Head Inn, A Taste of Europe, Sweet Thyme Café, Grapevine Farms, American Heritage and the college's Culinary Arts, Hospitality and Tourism Department. The Best Western provided a cash bar.
The Cobleskill Rotary Club and the Human Services Coordinating Council worked with SUNY Cobleskill on the fundraiser.