Community gathers to Take Back the Night
| | |
| --- | --- |
| 5/5/2010 | By Patsy Nicosia |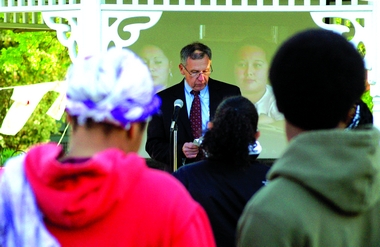 The greater Cobleskill community gathered again in Center Park Thursday to mark Take Back the Night with speakers, a run-through of service providers, and a candlelight march.
Susan Cimino-Cary of Cobleskill Regional Hospital welcomed the crowd, noting that while the event was originally organized to protest violence against women, it now focuses on violence against anyone.
Suzanne Mazoff of Rape Crisis Sexual Assault Support Services introduced the speakers, survivors Nicole Marsh and Mark Lyman.
Ron Stevens, Schoharie County undersheriff, drew applause with his remarks.
Readers and service providers included Ben Rauf, Child At Risk Response Team; Regine Niles for Cobleskill Regional Hospital, Pat Richards and Meg Cooke, Domestic Violence Program of Catholic Charities of Schoharie County, Kenya Guzman for SUNY Cobleskill Wellness Center, and Natasha Foote.
Rachel Rys performed, "The Greatest Love of All" against the backdrop of the Clothlesline Project, a Catholic Charities' effort that encourages women affected by violence to express their emotions on a t-shirt.