Schoharie girl wins nat'l service award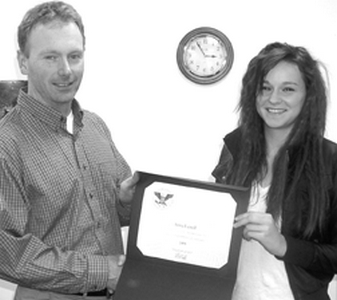 The Schoharie County Youth Bureau has awarded Anna Farrell with the President's Volunteer Service Award, a national honor offered in recognition of volunteer service.
Anna received the Silver Award, which includes a letter from President Barack Obama, a certificate of achievement and a silver pin, for her hours of service for the 2009 calendar year.
"Anna came to us asking if we were a certifying agency for the award," said Nancy Brumaghim, Program Coordinator of the Youth Bureau.
"I had never heard of this award of program but became quickly interested and started doing the research. It is a terrific way to show appreciation to those that give of themselves, on a regular basis, to help other and/or their community."
Anna has spent many hours volunteering for various organizations including: Kids' Celebration at Grace Fellowship Church, Morning Star Learning Center, The Schoharie Promotional Association, and the Schoharie County Youth Bureau.
In 2009, Anna also went to Guatemala with her church, Grace Fellowship, on a mission trip to Casa Bernabe Orphanage.
While there she gave 192 hours of service to the orphanage.
"We are very excited that Anna came to us and that we can be the ones to present her with the award," said Ms. Brumaghim. "We hope we will be able to recognize many more of the County's volunteers in the future, including Anna."
Anna is the daughter of Bonnie and Bill Farrell of Schoharie.