Renee Nied new Arts Council exec
| | |
| --- | --- |
| 3/2/2011 | By Patsy Nicosia |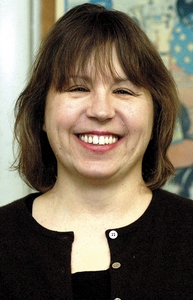 From volunteer to grants coordinator to woman-in-charge, Renee Nied of Richmondville is the new executive director of the Tri-County Arts Council.
Ms. Nied replaces Mark Eamer, who took the position in September 2004 while on leave from his teaching job at Head Start.
Mr. Eamer has since returned to teaching.
An open house to wish Mr. Eamer well will be held Saturday, March 12, from 2-5pm, at Coby's.
Ms. Nied joined the Arts Council in 2008 as a volunteer administrative assistant.
She was promoted to the position of decentralization grants coordinator, where she directed the re-grant program that helps fund local artists and performances.
Ms. Nied is a graduate of Kent University and worked as a professional stage manager before moving to Richmondville with her husband, Bob, and son, Owen.
Despite the fact that funding for the arts is being slashed everywhere, Ms. Nied said she's excited about taking on the challenge.
"I'm confident we can not only survive, but endure," she said.
"There will always be people interested in the arts and in what it takes to make things happen. We've been through tough times before. We'll be okay."
Because Ms. Nied's now the Arts Council's only paid staff—and a "part-timer" at that, she said she'll be utilizing volunteers with the time and energy to help keep things happening.
It also means, she pointed out, that there are plenty of opportunities for people looking to intern in the office or for a couple of people with an idea and looking for a way to make it happen.
Ms. Nied said she's especially proud of the long list of local performances and concerts the New York State Council on the Arts' DEC grants have funded for 2011, in part because the recipients represent such a broad range of interests.
"Arts should be for everyone," she said. "Most of this is free or low-cost. Even if you don't attend something, the fact that you can but chose not to is important too. I tell people, 'Show up. Bring your kids.'"
On that list: a fiddle festival at the Breakabeen Grange, summer music series in CObleskill, Richmondville and Sharon Springs, and events at the Schoharie County Maple Festival.
"These are all projects chosen locally," Ms. Nied said. "With the grants, NYSCA has made it clear they want us to continue and that's a good feeling too."
Though in more flush times, the Arts Council had a store, gallery and offices at 107 Union Street, Cobleskill, they're now located on the third floor of the old Aker School across the street.
If the light's on, Ms. Nied said, she's home.
Contact her at 234-7521 x 209.