Report: Towns could do roads better for less
| | |
| --- | --- |
| 3/9/2011 | By David Avitabile |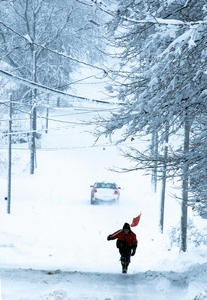 It may cost towns, per mile, less to maintain roads in Schoharie County than the county or villages.
A consulting firm is putting the finishing touches on a study that began last summer on highway costs in the county, said Blenheim Supervisor Bob Mann.
Early indications show that there is a big difference in road maintenance cost per mile between towns, villages and the county, Mr. Mann said. The difference is sometimes three to four times more.
"Generally, it seems to be more economical to do maintenance at the town level," he said.
There are many factors that go into the cost of maintaining roads, he noted.
The study, which is still in draft form, is very broad and factors such as the amount of seasonable roads in a town and the condition of the roads have to be considered, Mr. Mann said.
The consultants will look at several options including increasing the role of the towns in highway work and decreasing the role of the county, Mr. Mann said. The firm, CGR Consultants, also did studies for Cobleskill and in Herkimer County. The final study will be released in a few months.
In addition to economics, Mr. Mann noted that many residents prefer to speak to people on the local level when they have a problem with their road instead of talking to someone on the county level.
There are many questions to be considered before any changes could be made, Mr. Mann said.
Among those questions include: Will the towns have to spend more? What will be done with the county workforce? Will money actually be saved?
"All those questions are valid," Mr. Mann said.
Another factor that has to be considered is there may not be savings in the first year but after a few years there could be savings for many years, he said.
Changes, if there are any, could take some time, Mr. Mann said.
Possible changes, though, could be pushed up because of economics, he added.
He said not to "expect any changes overnight."
The county highway department would maintain several services even if the role of the towns become bigger, Mr. Mann said.
In the least, the county would probably maintain a bridge crew, own and house specialized equipment, do large repairs, and provide engineering support, Mr. Mann said.
In addition to looking at the increasing role of the towns in highway work, the study will also make recommendations on possibly merging some town highway departments and whether it would be cheaper to have the county take over the highway duties for some towns.