CR told: Save $, close Radez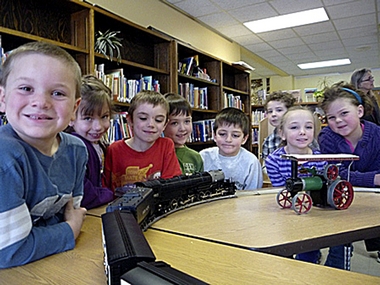 Radez School will stay open next year. Beyond that, who knows?
The Cobleskill-Richmondville school board Monday night rejected a detailed plan to close the Richmondville elementary school as a cost-cutting measure.
The proposal to close Radez came from 10 parents during C-R's latest meeting to reduce a projected $4 million gap in the 2011-12 school budget.
While not agreeing to close Radez, officials did announce a new round of cuts, including salary freezes for administrators
The parents pitched the close-Radez plan as a way to save $3 million and instead retain teachers and programs that have already been targeted for cuts.
"Cuts to teachers, the backbone of a quality education, does nothing to address a long-term sustainable solution to our budget crisis," the parents wrote in a seven-page document distributed to board members.
Based on the idea that C-R's enrollment is declining, the plan would move Radez' 300-plus students to Ryder Elementary, cut only four teachers and have class sizes from 19 to 25 students.
Parents also had a floor plan to show how Ryder would be re-configured.
Savings would come in the elimination of utilities for Radez, the loss of one principal and four teachers, the consolidation of pupil services and reduction in art and music staff, the parents argued.
In return, "our plan could go a long way to mitigating loss of faculty––which is our goal," the parents argued in their statement.
"Let's err on the side of losing concrete, not our students' future," Kathy Kelley, one of the parents said.
She was joined at the microphone by Carolyn Edwards, Jacqueline Turnquist, Jennifer Pius and Julia Ravenscroft.
Superintendent Lynn Macan questioned the $3 million in savings, adding the amount saved wouldn't be anywhere near that.
Even students would be moved from Radez, they would still be in classrooms and still require services, food and transportation.
Ms. Macan and board members countered that Ryder doesn't have enough room for what would be 800 or more students.
In particular, there wouldn't be room for special classes, the Learning Center and supporting services at Ryder, Ms. Macan said.
Also, she said, a school of 800-plus would need a second administrator, so there wouldn't be a loss of one by closing Radez.
Finally, C-R probably couldn't maintain cleaning and food services at the same level as they are for a school of 540––Ryder's enrollment––as they would for one of 800, Ms Macan said.
But as C-R continues to monitor enrollment, closing Radez "is definitely a possibility at some point if our enrollment continues to decline."
Weighing in, board members didn't like the close-Radez plan and pointed to the effect it would have on Richmondville.
"I'd have a hard time closing it," said board President Bruce Tryon. "I'm afraid of what it would do to the Richmondville community."
"Closing a school is wrenching," board member Rose Surman said. "Your plan is well-thought-out, but the space isn't there yet."
"I'm not ready to put 800-plus students in Ryder," member Liz Montario added.
Ms. Macan and several board members noted that closing a school requires more time than available now.
"To close a school after two weeks of discussion would be cruel and insensitive," member Maureen Nicholas said.