How to make a community walkable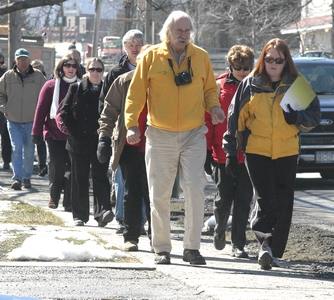 Can making a community more pedestrian-friendly improve its economy?
Dan Burden thinks so and has a background to prove it.
Having studied and worked in dozens of communities across North America, Mr. Burden is the executive director of the Walkable & Livable Communities Institute in Port Townsend, Washington.
He visited Cobleskill Thursday to discuss making downtown more friendly to pedestrians––and therefore, healthier and more friendly to economic development.
Mr. Burden spoke to about 20 Cobleskill officials and residents at SUNY Cobleskill Thursday morning before leading the group on a walking tour in the afternoon.
He contended that America's designed communities to suit cars and trucks: Wide streets and higher speeds than necessary.
Instead, Mr. Burden argued, community design should be based on the place, not getting through it as fast as possible.
"We've over-designed for the automobile and petroleum age," Mr. Burden said. "We should be making the community desirable for all people of all ages.
"We made the mistakes; we can correct them."
Landscaping, better sidewalks and bike lanes make "complete streets for everyone who wants to use them," Mr. Burden said.
Making downtown more attractive and desirable encourages walking and better health, he said.
And if downtown is more desirable for pedestrians and bikers, it will be for businesses, too, he said.
Mr. Burden pointed out that Cobleskill has the basics downtown: the Post Office and Community Library, the Community Plaza, Centre Park, Golding Park and businesses.
But it could also improve crosswalks, bring in a farmers' market, add more landscaping and possibly re-design the Main-Grand street intersection, he suggested.
Those improvements would tend to slow traffic––without impeding traffic––and make Cobleskill more attractive, he said.
"You can still move cars, but you don't speed the cars," Mr. Burden said.
The usual trend is to develop vacant properties, such as Newberry's and burned out Harmony Acres, before improving surroundings.
Mr. Burden, however, argued for the opposite. Improving surroundings first makes the properties more attractive for developers.
"Those changes raise the property values of all the buildings around it," he said, showing an image of a landscaped street.
Mr. Burden stressed mixed-use planning that would have both residential and businesses.
"You can have everything you want where everyone can reach it," he said. "The more you move from the heart, the more you require an automobile."
Local planners described Mr. Burden's presentation as "inspirational" and said it will likely trigger further downtown improvements. (See related story.)
Mr. Burden's visit was coordinated by Michele Strobeck, Schoharie County ag marketing specialist and funded by a grant SUNY Cobleskill secured.
Deya Greer is program coordinator for the grant, Creating Healthy Places in Schoharie County.