Dogs, pals get their day at Shelter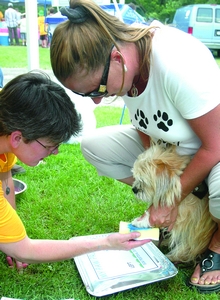 Dog devotees and their favorite friends flocked to the Animal Shelter of Schoharie Valley Saturday for the Shelter's Dog Festival.
Held at the Shelter in Howe's Cave, the festival drew dozens of dogs and their proud owners who socialized, greeted other dogs and took part in festival activities.
Owners could have their dogs' paws printed on a certificate, listen to descriptions of working dogs and tour the Shelter's under-construction new building right next to the current one.
Dogs and owners also gathered for Pastor Steffen Zehrfuhs' blessing of the dogs. Pastor Zehrfuhs closed the blessing with, "May they have a warn blanket, a bowl of food and a gentle hand to pet them."
Pastor Zehrfuhs served as the emcee for the Pooch Pageant, a parade of 14 adoptable Shelter dogs that were sponsored by local businesses.