Irene: $15M for farms a good start
| | |
| --- | --- |
| 9/7/2011 | By Patsy Nicosia |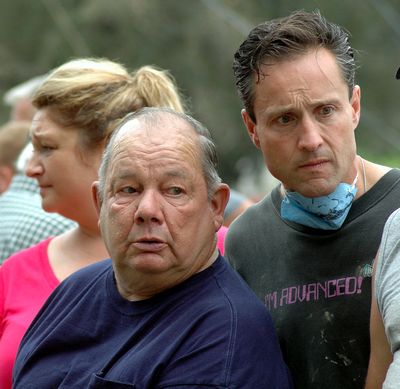 Word that Governor Andrew Cuomo has found $15 million to help agriculture recover from Hurricane Irene drew applause from farmers at the Larry Van Aller & Sons Farm in Middleburgh, where he shared the news Saturday.
But it also left many wondering what they'll do tomorrow.
The $15 million Agricultural and Community Recovery Fund will be used to help agricultural by rebuilding infrastructure, stream and drainage work, and other projects in the hardest hit areas.
"This is truly a disaster in a way we haven't seen it," Governor Cuomo said. "Yes, times are tough, but we're tough too."
Darrel Aubertine, State Ag & Markets commissioner, will work with the New York State Farm Bureau and local governments to prioritize projects.
The assistance also drew the backing of USDA Secretary of Agriculture Tom Vilsack, who along with Commissioner Aubertine, United States Senator Kirstin Gillibrand, and Congressman Paul Tonko, flanked Governor Cuomo against the backdrop of battered barns and gouged fields.
"This is the fifth disaster I've seen this year and I haven't seen farmland in such bad shape," said Secretary Vilisack.
"This needs an immediate response by Congress and our hope is that they will act immediately to help people like you. This can't wait."
Neither can the farmers.
"Two more inches of rain and I'll be right back where I started," Mr. Van Aller said afterward, as he gestured to the Little Schoharie Creek, which scoured his fourth-generation dairy on Clauverwie Road, Middleburgh, and destroyed his barns.
Mr. Van Aller lost some of his cows to Irene; others were found on higher ground across the road and trailered to safety by friends during the height of the storm.
David and Denise Lloyd also lost cows and are also milking at neighbors' farms now.
Like the Van Allers-like most farmers-the Lloyds don't have insurance for the corn and hay they lost; it's far too expensive in a time when it's hard enough paying their bills.
"It's crazy expensive," said vegetable farmer Richard Ball of Schoharie Valley Farms, who lost everything still in the fields, but whose barns and buildings are fine, "and it only covers disasters like this.
"This is bigger than New York State...When it comes time to harvest, there's not going to be anything to harvest and there's not going to be any feed to get them through the winter."
For those without crop insurance, both Secretary Vilsack and Commissioner Aubertine said loans will be available.
But the Lloyds said they don't need and can't afford any more loans; Mr. Van Aller pointed out that even low-interest loans have to be paid back.
And with floods and drought in the Midwest and West, others said privately they're afraid those funds are already stretched about as far as they can go.
Mr. Van Aller is 75; his son, Todd, is 50. His, Ella, wife was stranded on the second floor of their farm house during the flood and said she won't be back till things are fixed.
"Todd and I have already agreed that if we can fix things up, we will," Mr. Van Aller said.
"But we're not going to put up new barns or anything like that...it's just too much. I came back here in 1969 and I've already spent more repairing that stream than I spent to buy this place. I can't keep doing it. That doesn't make any sense."
The Van Allers lost half the corn they'd planted; the Lloyds lost most of their ag-bagged feed.
In both cases, that was feed for their animals for the winter and even if they had the money to replace it, where will they get it from, they ask.
Of the six farms in Middleburgh, Mr. Lloyd said, four of them have been devastated.
The Prokops on Mill Valley Road on the backside of Vroman's Nose is one of them.
Sandie Prokop said Thursday they were unable to get feed in or milk or manure out until neighbors and friends pitched in to open up the other side of their road-Tinkley Hollow--up into Greenbush Road, Cobleskill, so at least a pickup truck could get through.
"It's absolutely horrible," she said. "There was water running through our parlor. It was like Niagara Falls. We have a generator but it's not meant to be run all the time. And we won't get power back until we get our road back and they're talking months..."
Though she appreciates the state and federal assistance, Ms. Prokop said it was neighbors along with people like Sheriff Tony Desmond who've made the biggest difference.
"But when I stand in our flats and see all our land that's gone, it's the worst feeling," she said. We're taking it one day at a time."
On his visit to the area Thursday, Commissioner Aubertine said the state is working to return things to normal for agriculture as soon as possible.
Everyone has been stunned by the magnitude of the damage, he said, and how quickly roads, homes, and farms were impacted.
And it's not just the infrastructure.
Even before Irene, the county lost 100 jobs with the closing of the Summit Correctional Facility. Mr. Ball said Irene means 50 lost jobs from his farm and another 50 from Barber's.
"And we need all the jobs we can get right now."