Schoharie taking care of body, soul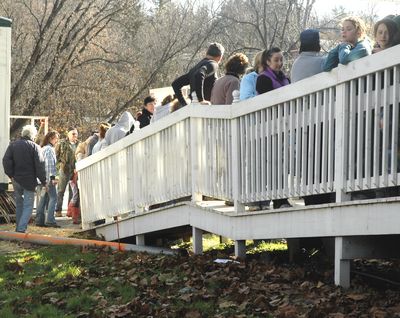 While Schoharie Recovery Inc. provides volunteers and financial assistance as flood relief, the organization also offers something else:
Food for the body and soul.
For weeks during Schoharie's rebuilding after the flood, Schoharie Recovery has provided hot meals every day for homeowners and volunteers.
It's all done at the church hall of the Schoharie Reformed Church on Main Street, and hundreds were on hand Saturday for turkey and companionship.
The traveling barbecue of Mr. Bobo's of Slingerlands cooked up the turkey, and a swarm of volunteers helped serve the long line of diners.
Saturday was the second visit by Eric Johnson of Mr. Bobo's, who donated the food, equipment and time for the effort.
And Mr. Johnson isn't alone. Other businesses have brought mobile kitchen gear to cook meals, and donations of food have come in from around the Capital District.
Jan Bassett, one of the organizers, expected 300 on Saturday, generally the busiest day of the week. At least 60 come for a meal most weekdays.
"At first we started taking meals to people because they didn't want to come out," Ms. Bassett said.
"But as time went on, we felt it was good to get out once a day and be with other people. They need a place to talk and be encouraged."
Many of the diners are homeowners "who may get only this hot meal per day," Ms. Bassett said.
But others are volunteers helping to rebuild homes and businesses.
"We started this to remove the need for the organization to worry about food," said Emily Davis, working in the kitchen Saturday.
"They have enough to worry about. We'll do the food."
And there's been plenty of food.
Ms. Davis pointed to two large upright freezers that she said were packed with donated casseroles.
Stewart's Shops and Price Chopper regularly donate bread, and church groups, individuals and businesses regularly contribute.
"We call this the Café of Loaves and Fishes," Ms. Davis said.
Ms. Bassett agreed, adding, "We start with a basic menu, and then all this food appears. It's like manna from Heaven. It's phenomenal what people do."
Carving turkey in his barbecue trailer outside the church, Mr. Johnson said regional help is essential.
"We're all in this together," Mr. Johnson said.
Helping with the turkey, Kevin Rundell of Purple Pork Masters had another take on it:
"Barbecue relief," he joked.
Schoharie Recovery Inc. is continuing to accept donated food because the rebuilding effort will take months, if not longer.
To donate, contact Ms. Bassett at 231-7641 or janis.bassett@yahoo.com.
She's also collecting recipes of donated food for a cookbook, "Goodies from Bad Times."