Merry Christmas Schoharie County! $5.5 million in grants, help
| | |
| --- | --- |
| 12/14/2011 | By Patsy Nicosia |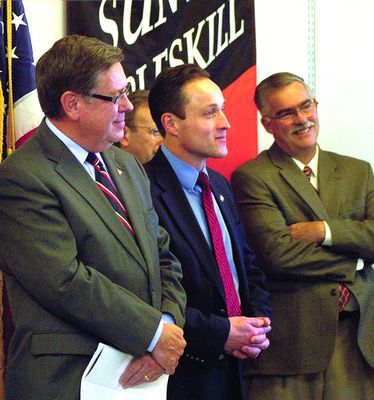 Christmas came Friday for Schoharie County with word of $5.5 million in grants for projects that include Cobleskill's Route 7 water and sewer line upgrades and bringing Butternuts Brewery to Guilford Mills.
In addition, the county will be eligible for some of the $50 million for additional flood recovery assistance approved in a special one-day session of the State Legislature.
That's good news anytime, but especially welcome after the devastation left behind by Hurricane Irene and Tropical Storm Lee and the closing of Camp Summit, elected officials said Monday at SUNY Cobleskill.
"It's time to take stock of the year...everything we've gone through and where we're going," said State Senator Jim Seward.
"We've taken some real hits. But this really closes out the year on a positive note. We're going to build on that momentum and come back stronger than ever."
In grants awarded through the Mohawk Valley Regional Council-which replaces the Empire Zone-local recipients were:
• Town of Cobleskill--$4.1 million for Route 7 water and sewer upgrades.
• Cobleskill Brewery, the local branch of Butternuts Brewery--$750,000 to spin off a contract manufacturing plant at the old Guilford Mills.
• Tropical Storm Microenterprise Relief--$200,000 to five businesses to retain 10 jobs impacted by the flood.
• Kintz Plastics--$53,908 for six new jobs.
• Blenheim Hill Farm-- $60,000 for four start-up jobs.
• Town of Gilboa--$400,000 to rehabilitate 16 substandard housing units to be administered by Western Catskills Community Revitalization Corporation.
Even before the fall's storms, said Assemblyman Lopez, the county's economy was in a slow freefall-so slow, he said, "that we weren't paying attention.
"Irene and Lee fast-forwarded everything...It made us ask the question: Do we stay or do we go? It's still a fragile time, but we're turning the corner...If we stay the mission, we can accomplish a lot. If we back off, we all fail."
The money for Cobleskill's water and sewer line upgrades is part of Empire State Development redevelopment funds awarded as a consequence of Camp Summit's closing, said Planning Director Alicia Terry; the jobs the extensions will allow Howe Caverns to create were used as leverage.
"2011 was a year like no other," Ms. Terry said, but 2001, when Story House Corp. and Guilford Mills closed within days of each other and the county lost 75 percent of its manufacturing wasn't a lot better.
"We've been struggling ever since," she said.
Struggling especially to find a tenant for the now county-owned Guilford Mills building, a spot Butternuts Brewery's Chuck Williamson said he hopes they can fill.
Mr. Williamson said he drove by the old plant for years, thinking it would be a great place for a brewery, but at the time, he was too focused on launching Butternuts to investigate.
"But one day I called Pete [Lopez]. Our expectations are to grow and expand...Why not do it in one location? This is a long-range project. At best, it will be 10 years before you see a major impact. But what if you'd started it 10 years ago?"
Butternuts' plans include opening what will be called Cobleskill Brewery with a start-up capacity of 25,000 barrels a year and expanding to 100,000 barrels within five years.
"Cobleskill has lost so many opportunities by not having infrastructure-water and sewer where we needed it," said Cobleskill Supervisor Tom Murray.
"We're back on the right track."
The $50 million for flood relief will include grants of up to $20,000 for small businesses, farms, non-profits and others; grants of up to $500,000 for stream stabilization, and $20 million available to municipalities for "unmet needs," said Assemblyman Lopez.
"It all reflects the work we've been doing on the ground since the first day of the flood," he added.
"It's a little help-and a lot of hope-for our county."