Sharon junior Matt Islip oratory winner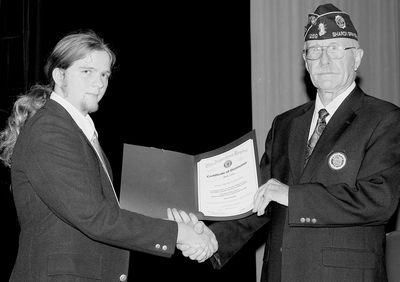 Matthew Islip knows what he's talking about when the Constitution is the topic.
The Sharon Springs junior's presentation, "A Risk for Rights" won him the Schoharie County American Legion Oratorical Contest last Monday at Middleburgh High School.
The American Legion has held the contest nationally for more than 70 years, but this is only the second contest for the county Legion.
Matthew follows a fellow Sharon Springs student, Alex Johnstone, who won last year.
Facing stiff competition, Matthew topped three other contestants, all of whom had to give an original speech for eight to 10 minutes from memory, without notes.
The US Constitution was the general topic for the orations, which could focus more specifically on leadership and the duties, responsibilities, rights and privileges of American citizenship.
Matthew won a $200 savings bond for his oration.
Finishing second and winning a $150 savings bond was Cobleskill-Richmondville senior Jason Kovalski, whose topic was "We Are All Equal."
Nick Roach, a Sharon Springs junior, was third with his speech, "We the People, Why Does It Matter." Nick received a $100 savings bond.
Middleburgh junior Jessica Atkinson took fourth and a $50 savings bond with her presentation, "The Freedom Dove of Sufferage."
Judges were District Attorney Jim Sacket, longtime Cobleskill dentist William Lancaster and SUNY Cobleskill Assistant Vice President for College Advancement Lois Goblet.
They judged the orators on speaking skills, knowledge of their topics, originality, poise, eye contact and other criteria.
Matthew and Jason, the top two winners, will go on to the next level of competition at the Emma Willard School in Troy January 7.
The national overall winners receive scholarships of $18,000 for first place, $16,000 for second and $14,000 for third.
Legionnaire Frank Masterson was the chairman for the contest.