'Stronger Than Irene' helps flood healing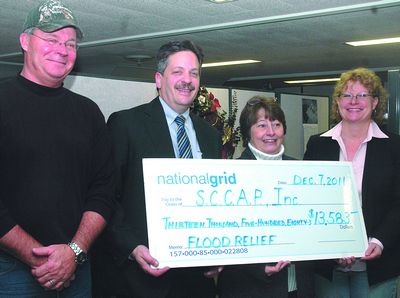 A book detailing Schoharie County's summer tragedies is going a long way to heal the damage done.
Sales of "Schoharie County: Stronger than Irene," published by National Grid, have raised more than $13,000, all of it ticketed for flood relief.
That fundraising will continue, for although National Grid has turned over the book's printing to the Times-Journal, proceeds will still go to flood recovery efforts.
"Schoharie County: Stronger than Irene" was the brainchild of Jeff Van Deusen, National Grid's local line supervisor in Cobleskill.
As part of his job, Mr. Van Deusen began photographing Irene's impact the day after the hurricane hit.
"The first we were able to take were by helicopter, to see what was needed, where we could restore power," Mr. Van Deusen said.
Later, by truck, he continued photographing.
"He ended up with over 500 photos," said Patrick Stella, National Grid's senior media relations representative.
"The book was Jeff's idea. He laid it out and scanned the photos."
The end result is a full-color, 50-page book that traces Schoharie County damage south to north, from Blenheim to Esperance.
The book finishes with photos of Cobleskill's damage from Tropical Storm Lee.
Funds to print the book came from shareholders, not customers, Mr. Stella said.
National Grid sold 850 at local stores and recently gave a $13,583 check to SCCAP, which has given out more than $500,000 to families, businesses and churches since the flood.
"I think this has a lot more meaning than if we just gave SCCAP $5,000," Mr. Van Deusen said.
"It keeps the message alive that there's still a lot of work to get done."
As the printing gears up at the Times-Journal, stores will be re-stocked with copies of "Schoharie County: Stronger than Irene" this week.
The book is available at the Apple Barrel, Carrot Barn, Hubie's, Kelley's Farm and Garden, the Times-Journal, Noble Ace Hardware, Grapevine Farm and Wolfe's Pizza.
Proceeds will continue to flow to SCCAP, which is maintaining its flood-relief effort, according to Cherie Stevens.
Ms. Stevens is on SCCAP's board of directors and also chairs the Schoharie County Flood Relief Committee, which distributes the money.
She said SCCAP's received more than 1,000 applications for money and has given out $500,000 in $500 allotments.
The money came from many fundraisers and donors, and contributions continue to come in.
"People's hearts are big, but the need is still huge," Ms. Stevens said.
That's why sales of "Schoharie County: Stronger than Irene" will still make an impact.
"I hope when we look back at Schoharie County's history, we'll see what wonderful people we have," Ms. Stevens said.
"It's a testimony to the human spirit."