Lowered flag honors "adopted" soldier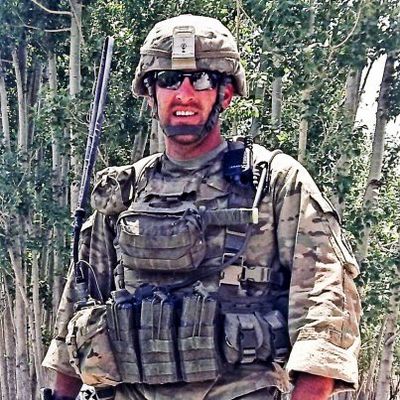 Governor Andrew Cuomo last week ordered flags to be flown at half-staff for three New York soldiers killed in Afghanistan November 3.
One of them had strong ties to Schoharie County, and specifically, to Cobleskill Regional Hospital.
Army Reserve Staff Sgt. Dain Venne was on combat patrol in Paktia Province, clearing explosive devices from a road, when one exploded and killed him and two other soldiers.
Specialist Brett Gornewicz of Alden and Ryan Jayne of Campbell also died in the blast.
Staff Sgt. Venne was from Port Henry, on Lake Champlain about an hour south of Plattsburgh, but he was the significant other of Cobleskill native Kelly Bascomb.
And Staff Sgt. Venne was also close to Ms. Bascomb's three aunts, Connie Elsensohn, Kathy Moore and Colleen Benson, all of whom work at the hospital. He was also close to Ms. Bascomb's grandmother, Marion Bascomb, who's retired from the hospital.
"Dain was really nice, genuine, kind, caring," said Ms. Elsensohn. "We have a really close family, and he fit right in, perfectly."
Staff Sgt. Venne was struck deeply by 9/11, and he enlisted in the Army Reserves shortly afterwards, Ms. Bascomb said in a phone interview.
He was in the Reserves for 10 years and nine months, she said.
His tour in Afghanistan began in July and was his second deployment. His first was in Iraq, Ms. Bascomb said.
The couple met at Clinton County Community College and had been together seven years.
They lived in Plattsburgh, and Staff Sgt. Venne often visited Cobleskill with Ms. Bascomb.
As did Ms. Elsensohn, Ms. Bascomb described her friend as kind, friendly and caring.
"He was not a big fanfare kind of guy and not into heroics," Ms. Bascomb said.
"But he was very family oriented and a kind person to everyone he came across. . .a friend to everyone he met."
Staff Sgt. Venne graduated from Moriah High School, where he was a football star. He was a volunteer firefighter and was hailed as a hero for saving several residents from flooding last year.
People noticed those community contributions.
"He was a small-town guy with a small-town personality," Ms. Elsensohn said, in praise. "That was good."
Staff Sgt. Venne loved the outdoors and was also a history buff, which sparked his interest in the military.
"He was very into history and the military," Ms. Bascomb said. "He always knew he wanted to be a soldier."
In lowering the flag to half staff last Wednesday, hospital officials recognized Staff Sgt. Venne's lasting link to employees.
"The entire Cobleskill Regional Hospital family mourns the loss of this young man who gave his life for his country," said Eric Stein, CRH president and CEO.
"Displaying the flag at half-mast allowed us to honor Staff Sgt. Venne, to bear in mind the Bascomb family's loss, and to recognize the huge sacrifices made by servicemen and women."
The three soldiers were assigned to the 44th Engineer Company, which is based in Oswego.
Staff Sgt. Venne is survived by his parents, Brian and Laura; an older brother, Lucas; and a sister, Brianna.
Ms. Bascomb said no services had yet been scheduled.