Few leads in trashing of Cobleskill trees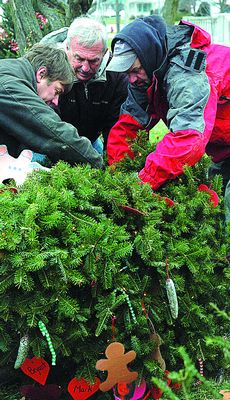 Vandals who tried to break Cobleskill's Christmas spirit didn't succeed last week.
Cobleskill Police are still hunting for the people who damaged trees and ornaments in a holiday display late Thursday night or early Friday morning.
In a project started by Cobleskill Partnership Inc., about 30 businesses erected and decorated trees around the little white church in Centre Park early last week.
It was those trees the vandals struck, damaging eight of them, smashing lights and ripping off strings of ornaments. They also bent metal rods supporting the trees.
"It was senseless. . .appalling," said Police Chief Larry Travis. "It wasn't just someone who walked by and broke something. They took their time to purposefully be destructive."
The vandalism came only two days before CPI's tree-lighting in the park, but volunteers helped replace and re-decorate the trees.
Village employee Gary Bywater, Joe DeSormeau, Rich Strang, employees from Catholic Charities of Schoharie County and others helped get the trees back in shape Friday morning and in time for Saturday's holiday celebration.
Police have few leads, Chief Travis said. Nearby residents heard noises through the night but nothing substantial, he said.
CPI is offering a $100 reward for information leading to the arrest of the vandals.
"All we can try to do is hope someone comes forward with information," Chief Travis said.
Anyone with information should call Cobleskill Police at 234-2923.