War against Constitution wages on
| | |
| --- | --- |
| 3/5/2013 | By Patsy Nicosia |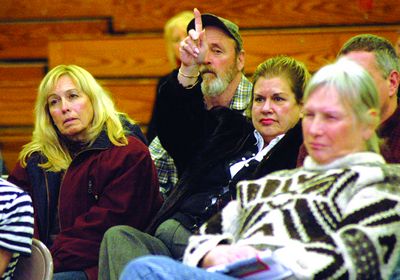 The war against Constitution Pipeline continued Wednesday in Richmondville with updates, warnings, and reminders that the battle's just begun.
"The perception being cultivated by Constitution is that it's all imminent," Bob Nied of the Center for Sustainable Rural Communities told about 85 people gathered in the Radez Gym.
"They want you to cut a deal as soon as possible. The reality is we're still in the pre-approval stage.
Constitution, a partnership of Williams, a pipeline company; Cabot Oil & Gas, a gas drilling firm; and now, Piedmont, a natural gas delivery company, first came forward with plans to build a 121-mile natural gas line through parts of Schoharie and surrounding counties last March.
More than a dozen alternatives have been added to the proposed route since then-Constitution reps detailed the latest for supervisors in January-but Mr. Nied said that could well change and then change again.
One tact that opponents are taking is notifying Constitution that they won't allow access to their property for surveying or rescinding that permission if it's already been granted.
"Even if you're not on the route, send a letter," Mr. Nied said, warning, "Constitution is trying to distract us" by constantly changing the route.
Jennifer Stinson of Summit and Stop the Pipeline, another of the meeting's sponsors, is spearheading local efforts to do just that.
She also has petitions for every town in the county that people can sign opposing the project.
The community needs to fight this as a group, Mr. Nied added--and not only if the proposed route goes through their backyard.
"This is not a done deal," he said. "This is a case where you can fight city hall."
Wednesday's event was sponsored by the Center for Sustainable Rural Communities, Stop the Pipeline, and Sharon Springs Against Hydrofracking.
Much of it was review for those who've attended other anti-Constitution events and meetings.
Constitution said in January in won't submit a formal application to the Federal Energy Regulatory Commission until mid-May at the earliest; Mr. Nied said that day may never come.
The Millenium Pipeline, in the state's Southern Tier, took more than 12 years to gain approval, Mr. Nied said, "and there was nowhere near the opposition. We are prepared to fight."
Schoharie Supervisor Gene Milone and Middleburgh Supervisor Jim Buzon were two of Wednesday's other speakers.
Both cautioned they were speaking for themselves; in Middleburgh in particular, Mr. Buzon said, the issue is causing division on the board.
Mr. Buzon said he has one theory on why Constitution wants to run a pipepline through the county:
To provide an easy energy source for some business.
"And the only one I can think of-and that puts us in a wonderful spot [geographically]-is a waste-to-energy facility. An incinerator," he said.
"I'm not trying to scare anybody, but look at the reality. A cheap energy source, a central location...We don't want something like this here."
Mr. Milone also spoke to "distraction," saying it's no coincidence that Constitution arrived in the county when so many people were rebuilding from Hurricane Irene.
Constitution reneged an agreement reps made at the January 19 Board of Supervisors meeting to visit every town along the proposed route to explain it just three days later, Mr. Milone said, so Schoharie will be hosting its own, March 20 at 7pm, in the town hall, where maps of the latest route will be available.
In response to a question from the crowd about how to find out where individual supervisors stand on the proposed pipeline, Mr. Milone's answer was simple: Ask them.
But he also predicted it will be an issue in November's local elections.

• • •

Stop the Pipeline will be holding its monthly meeting on Monday, March 11 at 7pm at the Richmondville Fire House, 288 Main Street, Richmondville.
The Stop the Pipeline Steering Committee will discuss the status of the project and the growing number of landowners who have denied or rescinded permission of land surveys by the pipeline company.
The meeting is open to anyone wishing to learn more about efforts to prevent the negative safety, property and economic impacts of the proposed pipeline.
For more information visit www.stopthepipeline.org.