Heroin: Don't kid yourself, it's here
| | |
| --- | --- |
| 3/27/2013 | By David Avitabile |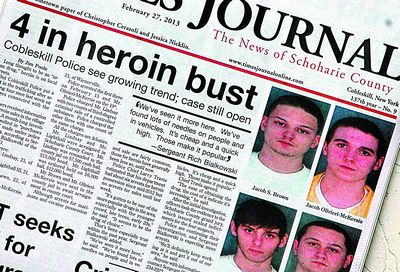 Heroin, long thought to be the problem of the inner-city, junkies and another generation, has penetrated Schoharie County and has brought with it a host of troubles for the user and anyone connected with them.
The latest "drug of choice" changes periodically, according to local law enforcement officers, but the use of heroin has spiked in rural areas.
When he was in the Police Academy in the 1960s, Schoharie County Sheriff Tony Desmond said heroin was a big problem only in urban areas.
In rural areas, the drug crisis in the 1960s centered around marijuana, he added. Users graduated to LSD, and then in the 1980s, cocaine, crack-cocaine, and then methamphetamine.
In the last four years or so, the use of heroin has greatly increased in Schoharie County and surrounding areas.
Law enforcement officials blame the proliferation of prescription painkillers for the rise in heroin problems.
The painkillers hydrocodone, oxycontin, percocet, and others are the new "gateway drug" to something much more dangerous.
The addiction can start as simply as leaving unused painkillers in the medicine cabinet, officials explained.
The painkillers are addictive and once trapped, the users migrate to heroin, which is cheaper and readily available.
Heroin makes its start in the United States in the urban areas and then travels Upstate and to the more rural regions.
After coming from South America and other areas, heroin seems to be traveling up from the New York City area by buses or private vehicles to the Capital Region. From Albany and Schenectady, the drug is distributed to centers such as Oneonta and Cobleskill.
Schoharie County District Attorney James Sacket said the drug is also traveling in from areas such as Troy and Gloversville and Senior Investigator Michael Ten Eyck of the Otsego County Sheriff's office said that county is seeing heroin come in from Utica.
The addiction to painkillers leads, because of cost, to heroin, explained Sam Mercado, a State Police senior investigator for the Community Narcotics Enforcement Team for Troop G, which covers 10 counties in the Capital Region and eastern New York. It is first snorted then the user eventually begins taking it intravenously.
"Eventually they're all going to shooting," Investigator Mercado added.
As with any purchase, economics and price have forced the switch to heroin for addicts.
Instead of paying $40 for two pills, users can buy two bags of heroin for the same price and attain a longer high, according to law enforcements officials.
"It's cheaper to come by," said Investigator Nelson Armlin of the Schoharie County Sheriff's office.
Once hooked there is no turning back, law enforcement officials said.
"It's very addictive," explained Lieutenant Charles Newman of the Schoharie County Sheriff's office, who has had to deal with many addicts in the county jail.
"You're always chasing that original high...It's an immediate addiction."
In many cases, it is so addictive that if "you do it once" it becomes an addiction, said Larry Travis, Chief of the Cobleskill Village Police Department.
"They'll do anything to get that next fix," said Sergeant Rich Bialkowski, also of the village police.
The addict's craving is sated quicker and with more force with an injection of heroin.
"It's a better high," detailed Investigator Ten Eyck. "It gets right into the vein."
Some people have a natural aversion to needles, but once heroin takes hold, that fear seems to go away.
"I have been told that some people who won't go near needles won't think twice about putting a needle in their arm" to shoot up heroin, Chief Travis stated.
The Cobleskill Police recently investigated an accident in which the driver crashed into a pole while he was apparently shooting up, Sergeant Bialkowski said.
"It's something that's very concerning," Chief Travis explained. "It's just a constant wave."
The arrest of four local men last month on charges of selling heroin may have put a dent in the trafficking, but officials said the problem is not likely to get better any time soon.
Heroin has overtaken crack-cocaine and Investigator Mercado expects the problem to get worse.
"I see more and more people getting into it," he said.
The addiction, he continued, will likely filter to younger people.
Right now, the problem is not prevalent among college students, confirmed Sergeant Bialkowski.
Use is worse among the "20 somethings" age group, according to Mr. Sacket.
This generation does not have the same fears of AIDS, HIV, and hepatitis that drove some addicts away from drugs that required needles in the 1980s.
In fact, addicts can get clean needles everyday from pharmacies. The program was started to reduce the number of AIDS and hepatitis cases.
There is also no stigma, at least to the users, attached to heroin, explained Investigator Mercado.
Heroin was popular among rock stars and movie stars in the 1960s and 70s and does not have the negative reputation that other drugs do, he added.
"It appears to be a glamorous drug," he said. The users and addicts can at least say, "'I'm not a crackhead.'"
Though the drug may have a better perception among those who use it, the affects are wide spread and has a profound impact on the user's family, friends, and community.
Once they try the drug and the needed high becomes a driving force, the addict needs money to pay for the drug.
The heroin user, according to Investigator Mercado, may need up to $150 a day to bankroll a 10-bag a day habit.
"That's 365 (days a year)."
Once the addict has gotten everything they can out of family members, either by borrowing or stealing, they venture outside the family.
"It affects everybody," Investigator Mercado warned.
The number of petty larcenies and burglaries are on the rise by addicts who have to pay for those drugs.
"More crimes have to be committed to pay for that addiction," explained Investigator Ten Eyck, who also noted the recent increase in bank robberies in the region. Another officer cited the hike in theft of copper pipe from homes.
The increase in crime in the county and surrounding areas is not connected to the sluggish economy, Sheriff Desmond said, but has more to do with the addict who needs money to buy drugs.
"They're not stealing that television to buy milk and eggs," Sergeant Bialkowski echoed.
"It's not just a law enforcement problem, it's a community problem."
In addition to having a tremendous affect on their family, heroin addiction takes a heavy toll on the user.
"The addiction changes your brain stem, your breathing," Investigator Mercado explained.
"Heroin has side effects," he continued. "You start to get sick. It's debilitating."
The sicker the addict becomes, the more he needs the drug.
"The drug almost becomes a medicine," Investigator Mercado added.
In order to help battle the heroin problem in the county, the Sheriff's office has begun a crime and drug tip hot line at (518) 295-2295. All information provided will be kept confidential.