Spa developers vow to break ground soon on Imperial Baths
| | |
| --- | --- |
| 4/17/2013 | By Patsy Nicosia |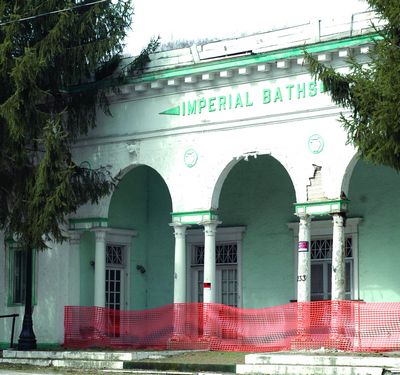 There's no need for the Village of Sharon Springs to look for someone to take over the restoration of the Imperial Baths.
Sharon Springs Inc. is just about ready to kick things into high gear.
That's according to spokesman Aiden Han, who said Monday he understands the frustration of residents, who've watched the past seven years as exactly nothing's happened to the half-dozen historic hotels and spas purchased by the group of Korean investors in 2005.
"I understand there is a trust issue. In seven years, we've done nothing," Mr. Han admitted.
"But it's my job now to make things move forward and in the seven months I've been here, that's what we've been doing."
A disagreement among investors that Mr. Han said sent one to jail and delayed plans to return Sharon Springs to its spa heyday has been resolved and Q Sung Cho is now the project's sole owner, he said.
In fact, Mr. Cho has been in Japan studying successful sulphur spas and business models there, Mr. Han said, and expects to become a United States citizen before the end of the year.
"This is his life now. It's my life too," said the 27-year-old New York University hotel development and tourism graduate.
Mr. Han said Mr. Cho has received a letter of intent from a New Jersey bank assuring them that funding for the multi-million dollar project has been approved-a letter he plans to share with the Sharon Planning Board and Village Board at meetings within the next few days.
"We're hoping to break ground in a month," he said, stressing that developers are aware they need to work within Sharon's zoning and land use codes and other regulations.
Mayor Omer Cousineau and trustees are aware that SSI has said it has funding in place.
But they remain skeptical and are still looking into the possibility of finding someone else to take over restoration of the Imperial Baths in particular.
In return, the village would turn over a $1 million Restore NY grant it's had since to 2009 to developers-which Mr. Han insists will be SSI.
"People have told me they're afraid we'll just flip this and sell it," he said, "but we're in it for the long haul."
Plans for the Imperial Baths, he said, will focus on upgrades that will maintain the 1920s structure's "identity."
He estimated the job will take 18 months to complete.
Mr. Han said he hopes to build on the fame Sharon Springs has gained through residents Brent Ridge and Josh Kilmer-Purcell, businessmen, reality TV stars, and Amazing Race winners.
"Everyone knows where Sharon Springs is now," he said.
Chatting with Mr. Han after he turned out Monday to meet them and hear them speak to the Sharon Historical Society on their Amazing Race Adventures, Dr. Ridge and Mr. Kilmer-Purcell pledged to work with SSI.
"Anything we can do to help...We want to see the baths back up and running," Dr. Ridge said.
"Forget everything that happened before," added Mr. Han. "This is something new. Sharon Springs will be celebrating."