Community, college dedicate Veteran's Plaza
| | |
| --- | --- |
| 5/1/2013 | By Patsy Nicosia |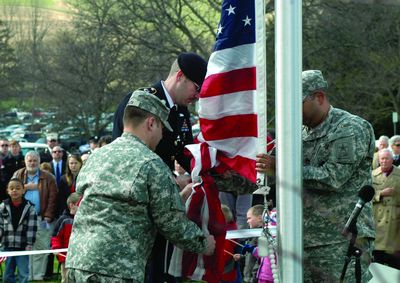 In honor and in memory, more than 200 turned out Friday to celebrate a SUNY Cobleskill tribute to veterans with the unveiling of a Veteran's Plaza, designed in part by graduate-and veteran-Jeff Vogt.
Located at the campus gateway, Knapp Hall, the plaza includes bluestone seals marking each branch of the military and a bench inscribed with the words, "In honor and memory of all those who served and for the freedom to educate, inspire and learn."
Local veterans served as an honor guard for Friday's ceremony, framed on one end by the Cobleskill Fire Department's giant American flag and on the other, smaller versions waved by enthusiastic youngsters from the Campus Child Care Center.
Provost Debra Thatcher called the event an important milestone for the college, linking its history to the arrival back home of the first veterans of World War I.
Today, 75 students, faculty, and staff are veterans, she said.
Mr. Vogt is a December 2012 landscape contracting graduate who created the conceptual design for the plaza as a way to honor those who've served; he's currently a member of the Army National Guard.
He spoke to the support he received while a student and called the plaza a tribute to that.
"This is is just the beginning," he added.
Professor Dave Campbell, an Army veteran, said he joined the military because it was expected in his family-but also because we wanted to see the world and saw it as a way to finance his education.
"And the Army gave back more than I could have ever imagined," he said. "It allowed me to go to college and it gave me great pride in my country and those who served."
Keynote speaker for the ceremonies was Army veteran Kathy Shear, another graduate who grew up on campus in the company of her father, retired Professor Jim Shear of Warnerville, one of those in the crowd Friday.
"My experiences here definitely prepared me for my career in the Army," Lieutenant Colonel Shear said, as well as for subsequent tours in Afghanistan and Iraq.
"And after all of it, I'm standing here today to tell you we are the best country in the world. Thank you for having the vision and making it happen."
Also speaking was Assemblyman Pete Lopez, who offered several definitions of patriotism; among them, loyalty to principle.
Lieutenant Colonel Shear wielded the ceremonial scissors for the plaza's ribbon-cutting, assisted by Provost Thatcher, Mr. Vogt, Professor Campbell, Assemblyman Lopez, and Alumni Association President Jennifer Regelski-Rotman.