Listening next step for Cobleskill dissolution
| | |
| --- | --- |
| 5/7/2013 | By Patsy Nicosia |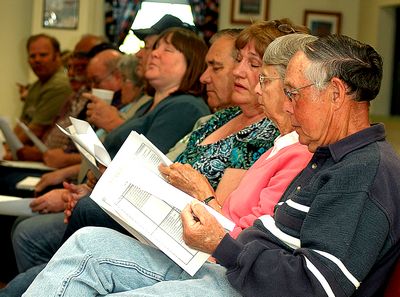 Facts-even when they were still a little sketchy-and not emotions set the tone for the Village of Cobleskill's first public consolidation and dissolution meeting Monday.
About 75 people turned out to hear Mayor Mark Galasso talk them through six pages of analysis on everything from the cost of the Police Department to the need to update the town's Master Plan.
"We've been sitting around, putting our heads together, trying to make sense of it all," said John O'Donnell, one of the six people asked to look at dissolving the village-a job that quickly grew to include the possibility of consolidating services with the town as well.
"I don't agree with everything here. I do agree with a lot. We've been trying to work our way through it. At least we're conscious of our incompetence," he added to laughter."
In addition to Mr. O'Donnell and Mayor Galasso, committee members include Councilman Ryan McAllister, Zoning Board of Appeals member Joan Hampel, Planning Board member Dawn Fiorillo, and Trustee Linda Holmes; by design, they represent the spectrum of opinion, Mayor Galasso said.
"We're hear to listen, to make sure we didn't miss anything-that this is as complete as it can be," he said.
"This is really a working document," added Mr. McAllister.
The analysis looks at the village department-by-department.
In most of them, dissolution and consolidation would mean little savings or reduction in workload, but possibly some economies of scale and increased efficiency.
As an example, Mayor Galasso cited the clerk's offices, which would require the same number of people no matter what the change.
The same would be true for the codes offices, he said: There are no expected savings.
State law means there are a number of roadblocks in the way of what might be common sense solutions to some of these issues, Mayor Galasso said.
A case in point is that it's illegal for the town to enforce village zoning law.
Still, in a step that the village and town will be exploring with or without dissolution or consolidation is having the two codes officers deputized as each other's deputy.
"Sharing an office has been valuable for Pete [Irwin] and Mike [Piccolo]," Mayor Galasso said. "Even without consolidation...they're interested in sharing more."
Other departments explored in the analysis include: Highway, rescue, building & grounds, recreation, water, sewer, and fire.
From here, Mayor Galasso said, they'll look at the financial impact of consolidation/dissolution and then develop a plan residents will be able to comment on before deciding whether to go ahead and put it on the ballot sometime after November's election.