Nat'l 9/11 flag hangs proudly in Sharon
| | |
| --- | --- |
| 5/15/2013 | By Patsy Nicosia |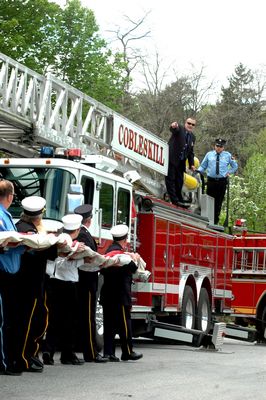 A flag first hung by construction workers from the ruins of the World Trade Center on September 12, 2001 came to Sharon Springs Sunday, thanks to the efforts of the New York Says Thank You Foundation and a local SALT volunteer.
One of the largest flags to fly above Ground Zero, the National 9/11 Flag has crisscrossed the country since it was recovered from a basement, mangled, torn, and almost forgotten, said New York City firefighter Jimmy Sands, who now accompanies the 20-foot-by-40-foot flag on its journeys.
Mr. Sands is friends with SALT volunteer Frank Tucker, another former NYS firefighter who lives in Sharon, and in an event thrown together in just days, drove the flag up Sunday.
With choreographed precision, local firefighters unfolded the flag, before it was fastened to the Cobleskill Fire Department's ladder truck and raised before a crowd of more than 200 in front of Sharon Springs Central School.
Mr. Sands spoke of stitching ceremonies and appearances held in places like Greensburg, Kansas, the Martin Luther King Jr. Memorial, Congress, Columbine High School, and at the funeral of nine-year-old Christina Green of Tucson, Arizona, killed in the 2011 attack of Congresswoman Gabrielle Giffords.
The crowd had a chance to examine the flag close-up and pose for photos in front of it before lending a hand in folding it back up.
The flag's final destination will be the 9/11 Memorial in NYC.