Flash flooding hits Middleburgh
| | |
| --- | --- |
| 6/19/2013 | By Patsy Nicosia |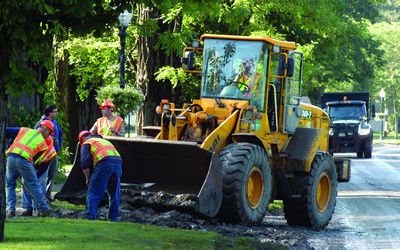 Flash flooding Friday sent a river racing down Middleburgh's Main Street, closed a handful of roads in Schoharie, and stalled traffic as far away as Richmondville and Seward, as a pair of late-afternoon storms let loose with more than three inches of rain, overwhelming streams and culverts.
After busses couldn't reach them, Middleburgh Elementary students were kept at the school until the last child was dropped home at about 8:30pm, but some businesses were able to stay open throughout the onslaught. (See related story on page 9)
It was a wet reminder of Hurricane Irene, Middleburgh Mayor Matthew Avitabile said Saturday, and lessons learned then came in handy this time around.
"We learned a lot from Irene and we put it to good use last night," he said. "The village's emergency plan worked flawlessly and like they always do, people are already working together to clean up. Right now, we're still assessing the damage."
Mayor Avitabile said the flooding in his village was caused by two streams that just couldn't handle the rain and jumped their banks, flooding basements and entering the first floors of businesses.
At the height of the storm, nearly a dozen roads were closed, including in Middleburgh, Route 145, Clauverwie Road and River Street; in Schoharie, Frisbieville and Stony Brook Roads, and Hilgert Parkway; in Broome, Route 145; in Richmondville, Harroway and Podpadic Roads; and in Wright, Route 443.
All roads were reopened shortly after midnight, but Sunday, Huntersland Road was closed after a mudslide dragged trees into the road, about a mile and a half up from Route 145.
Traffic was diverted over other roads and Schoharie County Sheriff Tony Desmond said he expected the road to be reopened late yesterday, Tuesday, or today.
The State Office of Emergency Management delivered sand bags and pumps to the Middleburgh Fire Department and by Saturday morning, SALT was already seeking volunteers to go help its neighbors to the south clean out.
Red Cross workers were also in Middleburgh and Schoharie Saturday with clean-up kits and supplies and late Sunday, the State Department of Transportation delivered an excavator for clean-up behind the MCS bus garage.
Assemblyman Pete Lopez said he's already been meeting with local officials and feels in Middleburgh, the best solution to the constant flooding will be an overhaul of the drainage system.
"I think there are things we can do to make it more accessible and I've reached out to the Governor's office," he said. "If we can get at things, it'll be easier to keep things cleaned out-which was our real problem Friday.
Assemblyman Lopez who saw flood waters in his own home-again---said the storm felt a lot like Irene.
"It's emotional," he said. "It's like a physical presence."
According to the National Weather Service, the eastern side of Schoharie County received three inches of rain from the storms and the western side, two to three inches.
The Warnerville Cutoff remained open, but Route 10 north of Cobleskill flooded in a couple of sections, as well as along back roads, forcing travelers to retrace their routes.