West Fulton native awarded Distinguished Flying Cross with Valor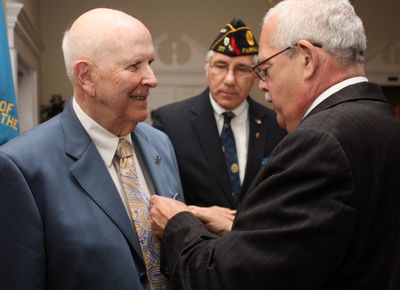 Eighty seven-year-old Millard "Lefty" Palmer stood ramrod straight before a crowd of family and friends recently at the local American Legion Hall in Fairfax, Virginia as Congressman Gerry Connolly pinned the Distinguished Flying Cross with Valor on his lapel for an act of heroism that occurred 68 years earlier in the sky over Japan.
Lefty Palmer, born and raised in West Fulton in 1926, was barely 18 and the gunner on a July 7, 1945 bombing flight over Akashi, Japan when the 20 500-pound bombs failed to release due to a malfunction, jeopardizing the mission, the plane, and the crew's lives.
Mr. Palmer and the plane's bombardier stripped off their flak jackets, their parachutes and other protective gear and crawled into the B-29's bomb bay.
As they risked their own lives, hanging precariously from the bomb rack over open sky, they manually released each of the bombs, using only a screwdriver and "great physical effort."
Nearly seven decades later, the US Air Force acted on information it received about Mr. Palmer's exploits and notified him late last year that he was being awarded the Distinguished Flying Cross with Valor for his "outstanding heroism and selfless dedication to duty."
The Air Force citation accompanying the medal cited his "extraordinary achievement" and "total disregard for his own safety."
Mr. Palmer was a staff sergeant at the time of his heroic act during World War II.
He subsequently served in the Korean War and retired from the Air Force as a colonel in 1980.
He lives in Fairfax with Doris, his wife of 64 years, after moving from West Fulton in 1959.
Congressman Connolly, accompanied by Fairfax American Legion Post 177 commander Mike Kimlick, presented the award to Mr. Palmer at a dinner in his honor.
Mr. Palmer, who flew many missions over Japan, cited his pride in being part of the 73rd Bomb Wing based in Saipan.