Broadband key to rural Upstate economy
| | |
| --- | --- |
| 8/20/2013 | By Patsy Nicosia |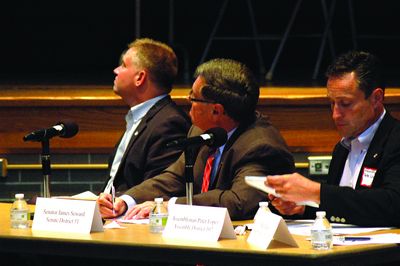 In 1935, the Rural Electric Administration was created to bring electricity and all of its benefits-think lights, refrigeration, and washing machines-to rural America.
Seventy-eight years later, it's the internet that's changing the way people live-and rural America is still getting left behind:
More than a third of the residents in Schoharie, Otsego, Montgomery, and Delaware don't have access to the internet or the access they have is so slow, it's worthless.
With that as their focus, more than 50 industry representatives met with elected officials at SUNY Cobleskill Thursday to learn about state and federal loan and grant opportunities they could tap into to expand their reach.
It was the third stop for a Broadband Symposium put together by Congressman Chris Gibson, who stressed the internet's importance to the upstate economy and education.
"Even when kids have internet access in school, they go home and there's an unevenness to access to high-speed broadband," he said.
"When it comes to homework, they can't keep up. And that's just one reason to be passionate about broadband."
Other reasons include access to marketing opportunities for farmers and just quality of life, he said, adding, "There's a lot of misinformation out there. When I heard things like '95 percent coverage,' I know that's not true, I say, 'Come walk around with me.'"
Senator Jim Seward stressed the need for tax credits for companies looking to expand their broadband coverage and called for more "players"-whether they're phone, cable, or rural electric providers.
"If we're truly going to bring back the rural upstate economy," he said, "we need to be invested in this."
Like the days when rural electricity was rare, Assemblyman Pete Lopez said lack of high-speed internet access has relegated many in upstate New York to second-class status.
"It's all about funding and targeting the people who need it most."
The cost of the infrastructure needed to expand high-speed access is a detriment to many companies, which typically seek out areas where they can hook up 10-20 customers over a one-mile area-a population density that just doesn't exist in many rural areas.
Speakers from the US Department of Agriculture's Rural Development Office, the state's Broadband Program Office, and the Division of Homeland Security and Emergency Service were about those outlining funding possibilities, but even those aren't cut and dry.
The USDA's Robert O'Hara called funding through his office "a moving target."
Current funding is based on the expired 2012 Farm Bill and will likely change once Congress adopts a new Farm Bill-even as the industry and technology changes faster.