It'll be Tories vs. Rebels at Old Stone Fort Saturday and Sunday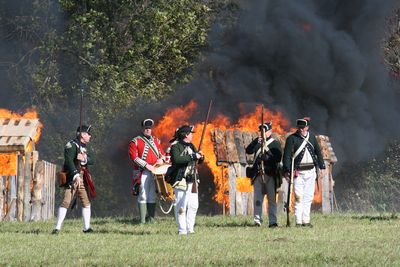 Stone Fort Days, the re-creation of Revolutionary War times, will have a modern bent this year.
The Second Amendment--the right to bear arms and the need for a well-regulated militia--will be front and center at the Stone Fort in Schoharie this weekend.
The Days run 10-9 on Saturday and 10-5 on Sunday, with battles between re-enactors, colonial games and music, a puppet show, ladies' socials and more.
"For us, every event is an opportunity and a challenge to make history relevant and interesting to 21st Century audiences," said Carle Kopecky, Old Stone Fort director.
The relevance this weekend is the Second Amendment, which received plenty of attention this year after Governor Andrew Cuomo's controversial Safe Act became law.
Pro-gun advocates argued that the Safe Act compromised their right to bear arms, which is protected in the Second Amendment.
"It also calls for a 'well-regulated militia,' which is an important but forgotten part of the Second Amendment," Mr. Kopecky said.
A 2006 Supreme Court ruling, he added, said that a 'well-regulated militia' "doesn't matter any more, so they've forgotten it, too."
At Stone Fort Days, skirmishes and battles will illustrate what militia--citizen soliders--did and didn't do.
"General Washington struggled with them the entire Revolution," Mr. Kopecky said. "Sometimes they did well. But sometimes they didn't show up or disappeared when they were needed."
Re-enactors will come from around the Northeast and Canada. A Canadian unit, the King's Royal Regiment of New York, includes descendants of loyalists who lived in the Schoharie Valley but left after the Revolution.
There's more than battles. The Days include a Punch and Judy puppet show, period toys and games, programs about Native Americans, Committee of Safety meetings and craftsmen and artisans set up on the Fort grounds.
There will also be an evening dance, featuring English and French-Canadian dances that the public can participate in.
A twilight artillery barrage will fire just before the dance.
There will also be food and refreshments, including Saturday's colonial dinner prepared by Ralph and Irmgard Buess.
"We always have a multi-disciplinary approach to these events," Mr. Kopecky said. "It's not just military. We want to create a feeling of the times."
Sponsors for Stone Fort Days are the Bank of Richmondville, Donna Lavigne Agency, Sterling Insurance and Stewart's Shops, with technical support from Pittsfield Communications.