Stir crazy? More ice fishing fun Saturday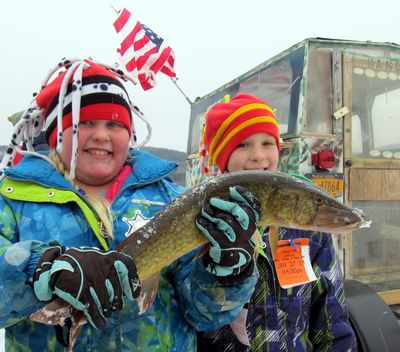 After a couple of months of biting cold, the temperatures are finally moderating making it a perfect time to get out on the ice and do some fishing.
SUNY Cobleskill's American Fisheries Society will be hosting its 24th annual ice fishing derby this Saturday, February 22 from 7am-2pm at Vlaie pond.
Cash prizes and trophies will be awarded to the participant with the largest fish of each species.
The derby is open to all ages. Kids under 12 enter the derby for free. Adults and teenagers pay a nominal $5 registration fee.
Bait fish and refreshments are available for purchase, but you will need to bring your own bait bucket.
The last two Vlaie Pond derbies, hosted by the Schoharie County Conservation Association and the West Fulton Rod and Gun Clubs, were a great success with over 100 fishermen.
Hannah Summers won the Schoharie County Conservation Association Derby with an impressive 23.75-inch chain pickerel that weighed a whopping three pounds.
Danica Davis won Saturday's derby sponsored by the West Fulton Rod & Gun Club with a 20-inch chain pickerel.
Besides pickerel, Vlaie Pond is yielding good catches of a variety of pan fish species, such as yellow perch, bluegill, pumpkinseed, and crappie.
"These ice fishing derbies are great for all ages as well as a great opportunity to get into ice fishing," noted SUNY Cobleskill American Fisheries Society President Eric Malone. "If you want to try ice fishing for the first time, come to the derby and we would be glad to teach you."
"The fish are biting; the ice is plenty safe at 10-12 inches. So, bundle up, grab a friend and your fishing gear and come fish with us on Saturday. Vlaie Pond is a beautiful place to enjoy the outdoors, fish for dinner, or observe the resident bald eagle," said AFS executive Jason Gagnon.
Vlaie Pond can be reached via the DEC Parking Lot/Fishing Access off Route 145 just north of Middleburgh in the Town of Broome.
The pond is directly off the side of the road and is hard to miss.