Cobleskill Fire Department working on 150-year celebration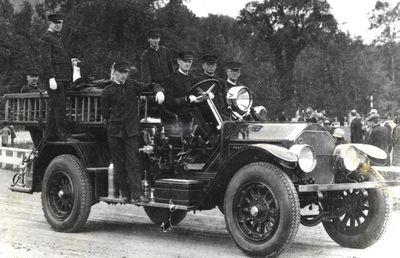 The Cobleskill Fire Department is planning a birthday bash like no other.
Volunteers are celebrating the department's 150th anniversary, and they're inviting the entire community.
The date is June 14, and the event will start with a parade and end with a dance and fireworks, with plenty in between.
"It's going to be a big birthday party," said department President Bill Johnson.
The parade will include Cobleskill and other departments, and volunteers are contacting school bands and community groups.
"We're reaching out to Little League, Jeep clubs, anyone," said Rick Albert. "We want the community involved."
The parade will march from SUNY Cobleskill down West Main to South Grand and end at the Fairgrounds. The reviewing stand will appropriately be in front of the old firehouse--now Twisted Ink Tattoos--across from Centre Park.
There will be an opening ceremony at the Fairgrounds. Afterwards, activities will include games for kids, a car show, flea market, vendors, firematics and a fire equipment show.
For the equipment show, Cobleskill firefighters are having their classic 1923 American LaFrance truck refurbished.
Bands will play at 5pm and 9pm, and fireworks will touch off at dusk.
"This is about 150 years of volunteers who sacrificed their time and the community that supported them,' Mr. Johnson said.
"We've been blessed to have a community like this."
Of course, history will be part of the big day.
Brian Head has spent more than a year working on a history of the department, digging into archives at the Old Stone Fort to examine collections from the Angle, Cooper and Slater families, all longtime Cobleskill FD names.
Mr. Head credited Dan Beams, curator at the Old Stone Fort, for his assistance.
"Until I went over there, I didn't know what they had," Mr. Head said. "Dan was a great help."
His work will result in a book detailing the department's history that will be for sale on June 14.
"We've never had a history like this, so it's important to put it together," Mr. Johnson said. "Brian's put in endless hours preserving our part of history."
Mr. Head is also working with videographer Dennis Shaw of Richmondville, who's producing a film that will be available on DVD.
Mr. Head's assembled old reel-to-reel film, photos and more for the DVD, and a showing is in the works at the Park Theater.
Looking forward to June, Mr. Johnson said the day is not just for the fire department--it's for all of Cobleskill.
"This will give our community something to realize where we started from and where we are, with their help," Mr. Johnson said.