Farming from the inside: Ag Commissioner speaks at SUNY Cobleskill
| | |
| --- | --- |
| 4/8/2014 | By Patsy Nicosia |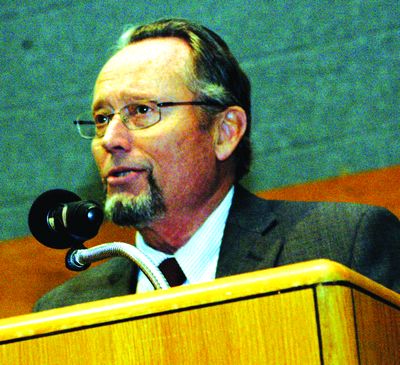 Schoharie County's farm community got an inside look at Albany from the hometown perspective Wednesday when SUNY Cobleskill hosted Farmer-In-Chief and Acting Ag Commissioner Richard Ball at its President's Roundtable Breakfast.
Mr. Ball, nominated for the post in November, is 20-year owner and operator of Schoharie Valley Farms and the Carrot Barn and has long been involved in local farming and community efforts.
"It's like old home week," Mr. Ball told the crowd in the SUNY Ballroom. "Some of the friendships in this room go back 20 years."
Though he admitted he's surprised to end up in Albany, Mr. Ball said Governor Cuomo's phone call last year was fortuitous; after 40 years in farming, he'd already made the decision that it was time to begin transitioning the operation to the next generation.
"We are all so fortunate that we have representatives in Albany that 'get it,'" he said.
With the approval of the state budget just the day before, he said, "our ag budget looks very good."
Governor Cuomo has already announced plans for a Dairy and Yogurt Summit, Mr. Ball said, as well as an Upstate-Downstate Summit.
"I think I'm here because they know in Albany that we have an uneasy economy in upstate New York," he said.
"I don't know of a time when it wasn't that way, but they realize we need a vibrant economy for recovery to continue. It's not just about food, it's about community; New York City doesn't have a monopoly on poverty."
Mr. Ball joked that he's already created his own acronym, SILO, for Strategic Interagency Task Force on Lessening Obstacles to Agriculture-with a focus on streamlining regulations that restrict agriculture and making them more friendly to agriculture.
"I got to pick the farmers," he said. "We're hoping for some a-ha moments. There will be three or four meetings, some recommendations, and then we'll move on."
Even as acting commissioner, Mr. Ball said he's been able to continue local ag efforts he's long had a hand in; among them, participating at Ag Literacy Week at Schoharie Elementary School.
He also continues to be a strong proponent of the Corbin Hill Farm project, which provides shareholders in the Bronx with vegetables and more from Schoharie County.
Mr. Ball fielded audience questions on how to match up young people interested in farming with farmers looking to retire, on the narrowing 'gap' between traditional and organic farming, and on the challenges SUNY Cobleskill is facing trying to buy 30 percent of its dining hall food locally, especially when it comes to beef.
"I like our chances," Mr. Ball said of local agriculture. "I think we're on the edge of some very good things. Agriculture is what we do here in Schoharie County. We're on the frontier. People are still farming. They're still making a living from farming."