Cobleskill's Tree Committee gets planting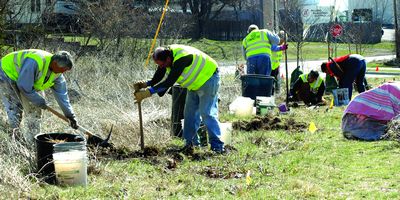 Volunteers from the Cobleskill Village Tree Committee spent their three-day weekend planting trees.
Beginning Friday afternoon and wrapping up Sunday, the all-volunteer group put in nearly 30 trees along Turtle Pond Road, behind Rite Aid.
They'll continue their work this week, planting more than a dozen replacement trees along South Grand Street and Clinton Circle; a half-dozen others will be planted at the intersection of South Grand and MacArthur Avenue.
The all-volunteer Village Tree Committee has been is existence for 14 years and in charged with the planting and maintenance of all trees on village property.
Special attention has been given to the greening of entrances to the village, parks, and streets where no trees had been previously planted.
Care has been taken to plant a wide variety of trees to ensure that no disease or insect infestation gains a foothold.
Since its formation, the committee has earned the Arbor Day Foundation's Tree City designation for 11 years and has planted an average of more than 50 trees a year during that time.
Funding for tree planting, care, and removal generally comes from village taxes and from programs such as the National Grid 10,000 Trees Program.
This program reimburses the village $50 per tree for every tree planted under a power line with a mature height of no more than 30 feet, saving the utility maintenance costs down the line and eliminating the need for radical and unsightly pruning.
Due to budget cuts enacted in the fall of 2013, the Tree Committee's entire 2014 budget comes from National Grid 10,000 Trees money earned in prior years; it includes no tax dollars.
When they're not planting, the Tree Committee volunteers keep busy watering all new trees once a week, fertilizing, maintaining a digital master tree inventory, weeding and mulching, pruning, taking down diseased trees, attending workshops, and planning.
Last year, committee members logged nearly 700 hours of service.
In addition to 35 plantings along streets, more than 200 free trees and bushes from DEC's Trees for Tribs program were planted along the banks of Mill Creek in Golding Park to help prevent erosion.
The south slope abutting the new Route 7 bridge was stripped of unwanted vegetation and 25 new trees were planted under the auspices of DOT.
Approximately 15 diseased or dead trees were professionally removed.
All of this was done with a budget of $5,000.
To deliver services as economically as possible, all trees are bare root stock and are planted with hand tools.
Mulch is obtained for free from chipped take-downs solicited from tree contractors.
New volunteers are always welcome.
For more information, email pecsec@midtel.net or gdyoder@midtel.net or stop by when you see the group working.